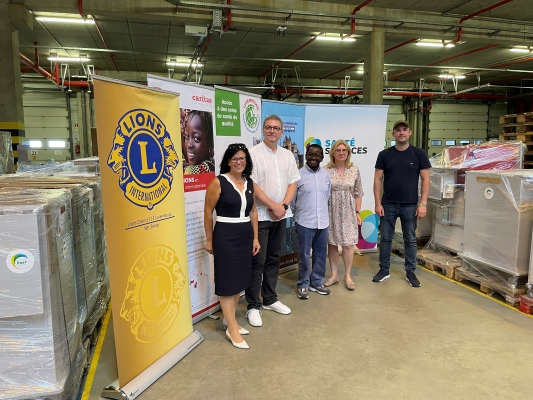 Credit: Caritas Luxembourg Foundation
On Friday 26 August 2022, Caritas Luxembourg Foundation announced that a transport with medical equipment and supplies has left the Grand Duchy of Luxembourg to go to the province of Poltava, in central Ukraine.
This transport is the result of a collaboration between the Lions Foundation Luxembourg, the Lions Club Xenium, LUkraine asbl, Pharmaciens sans Frontières Luxembourg, Post Logistics, Santé Services S.A. and the Caritas Luxembourg Foundation.
The partners thanked Salvatore Corelli for his valuable contribution to establishing contacts in Ukraine.
The authorities of the province of Poltava have appealed to Luxembourg partners, because the hospitals in the region are not sufficiently equipped to take care of the many wounded who are arriving from the bombarded cities in the Donbass region. The equipment will help two sites of the Regional Hospital to respond to the emergencies of the crisis, the first in Poltava itself, the second in Karlivka.
The medical equipment sent includes eight machines for faster treatment of wounds. The convoy also includes more than 39,000 needles, 18,000 insulin syringes, 700 bandages, 500 tourniquets, 42 medical trolleys, eight medical mattresses and the appropriate sheets, medical furniture and an assortment of pharmaceutical products.
The Caritas Luxembourg Foundation thanks the Comptoir Pharmaceutique Luxembourgeois, requested by Pharmaciens sans Frontières, and the Center Hospitalier du Luxembourg, requested by the Lions Club Xenium, for their donation of a large part of this material, as well as the many donors and private donors to help the victims of the war in Ukraine.