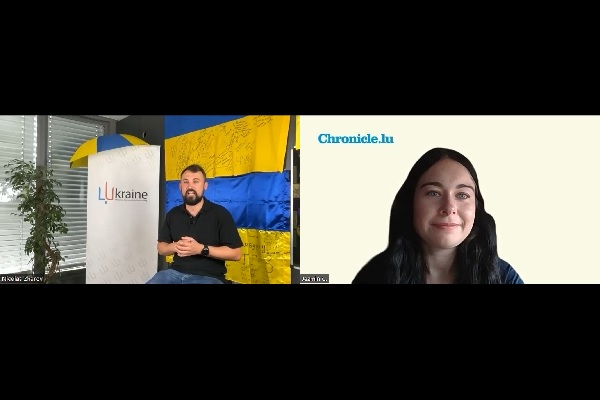 L-R: Nicolas Zharov, President of LUkraine asbl; Jazmin Campbell, journalist at Chronicle.lu; Credit: Screenshot
In a fourth weekly video interview on Chronicle.lu (available to watch below), Nicolas Zharov, President of LUkraine asbl, discussed how the non-profit organisation has been using the quieter summer period in Luxembourg as an opportunity to restructure its activities and reacted to some of the latest developments in the Russia-Ukraine war.
July and particularly August tend to be months of relaxation and / or trips abroad for many people in Luxembourg and elsewhere in Europe. However, this is not the case this year for people in Ukraine, where the war waged by Russia is ongoing, nor for LUkraine asbl, a local non-profit organisation supporting Ukrainians in Luxembourg and people in Ukraine.
Summer "break"
"There is a summer break here in Europe so people usually go on holidays and try to enjoy the good weather", said Nicolas, speaking on behalf of LUkraine asbl. "For us, [...] it's another working period. In Ukraine, of course, we have the war which is ongoing. There are no holidays, vacation, people are at work and we do the maximum we can to use this summer break for the Europeans to restructure our activities here in Luxembourg". The LUkraine asbl President added that there had been a noticeable decline in donations and support activities from the non-profit's partners since June. "We hope that people will get enough holidays and motivation and will come back in September and will still support our activities when they've had their rest", he commented.
Speaking about the non-profit's current activities, Nicolas highlighted the recently launched summer camp called "Super U". The purpose of this initiative is, on the one hand, to help Ukrainian children and young people having arrived in Luxembourg in the context of the war to lead "some kind of normal life" and to enjoy their summer holidays as best they can and, on the other hand, to give parents the time to attend the non-profit's daily language and integration courses and various workshops.
Restructuring activities
The summer break has also been an opportunity for LUkraine asbl to "take a step back and think how can we transfer our emergency response into more sustainable projects", as Nicolas explained. One such project is a Ukrainian Creative Hub, which will cater not only to Ukrainians but all residents of Luxembourg. "We would like to combine the knowledge and the skills of people who came here to Luxembourg together with the knowledge and skills of the citizens of Luxembourg", stated Nicolas, adding that the initial focus will be on "creative segments" within this new hub. "For us, what is important and our way of thinking [is] we have to value the refugees. They should not become a liability for the government but an opportunity or an asset", Nicolas elaborated. "That's why we are trying to create this added value that comes from refugees". He added that he believed that the Ukrainian Creative Hub would be "a game-changing project" and he hoped that other countries would follow this approach.
Efforts and developments in Ukraine
As well as continuing (and restructuring) its activities in Luxembourg, LUkraine asbl has been working alongside its various partners on the ground in Ukraine. Nicolas noted that a recently announced memorandum of cooperation with the Donetsk regional administration was currently being drafted and should be signed soon. This agreement will see the Luxembourg non-profit focus its humanitarian efforts on this particularly affected region in Ukraine.
Nicolas also announced that LUkraine asbl had reached a milestone in its new ambulance project this week, having sent a tenth ambulance to Ukraine, this time to the city of Nikopol in the Dnipro region. He added that the next vehicles to be sent over will be fire engines to areas, mostly in the Donetsk region (as part of this memorandum of cooperation), which have been most affected by fires in the context of the war. Nicolas recalled that "it's not only human lives which are being saved but also we think about the crops and the grains that are being exploited from Ukraine".
Also on the subject of grain, Nicolas reacted to the recent news of the first grain ship arriving in Turkey from Ukraine as part of a United Nations-backed deal to free up grain exports from Ukraine's ports; three more ships loaded with corn departed Ukrainian ports today, Friday 5 August 2022. Nicolas said that he was pleased to know that the Ukrainian government was doing "the maximum" to avoid global food shortages. He also noted that "fields are burning and Ukrainian farmers are risking their lives to collect those grains".
Regarding other international coverage of the war in Ukraine, Amnesty International published a report on Thursday 4 August 2022 in which it accused Ukrainian military forces of violating international humanitarian law and endangering civilians by "turn[ing] civilian objects into military targets". Nicolas noted that the report had been "shocking to the whole world community and to the Ukrainian community".
"It's impossible, if we take this report, to be able to defend our country if we stay on the plain fields. Our mission is to save lives and we value the lives of our people and our soldiers too", he said. "So, no matter what Russia says, all the actions that are undertaken by the Ukrainian side are meant to defend people".
"We wonder what's the real effect of this report. Do we want to prove to the world that Ukrainians are defending themselves or do we want to say that Russia attacks Ukrainian cities because there are Ukrainian soldiers inside?", he continued. "I think the answer is obvious. On our territory, given all the circumstances, we have the right to do the maximum we can to save lives, to defend ourselves, and the right to defend ourselves is the essential right of any country".
Nicolas also criticised a perceived one-sided approach and an absence of information shared by the non-governmental organisation on "Russian atrocities and Russian war crimes". He concluded: "I appeal to Amnesty International to stop manipulating and to stop trying to play on some topics that concern the Ukrainian army and not to forget about the war crimes actually committed by the Russian army".
Watch the full video interview below: