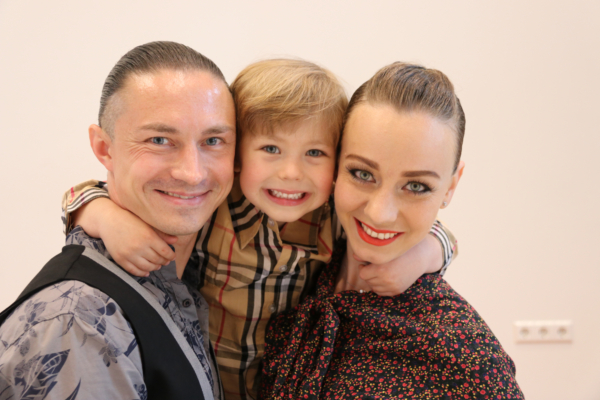 (L-R) Renat Korobka; Lucas Korobka; Inna Korobka; Credit: Kangkan Halder
Ukrainian couple and professional ballroom dancers, 35-year-old Inna Korobka and 36-year-old Renat Korobka, four-time champions of the Ukrainian Dance Sport Federation, semi-finalists of the World Championship and winners of several international competitions, together with their five-year-old son, Lucas, arrived in Luxembourg as refugees from Ukraine in March 2022.
Speaking to Chronicle.lu, Inna and Renat shared their ordeal and escape from war in Ukraine, and the kindness and warm welcome they found in Luxembourg.
Before the Russian military aggression in Ukraine started on 24 February 2022, the couple had their own dance school in the small town of Chuguev, a picturesque city of 31,000 residents, located 20 kilometres from the city of Kharkov, where they took pride in giving dance lessons, mainly to children. They brought up many good dancers who won not only Ukrainian competitions but also international competitions such as the Italian Championship and the World Championship in Paris.
On 24 February, the couple were informed at 05:30 by their parents that the war had begun and everything changed for them instantly. Peering out through the window, they saw explosions. The couple woke up Lucas, packed what they could in haste, got into their car and drove off. They came under fire and had to quickly turn to friends in a private house. There they sat in the basement for about ten days.
The city was under siege and all exits were closed by the Russian military, who tried to shoot at anyone who tried to leave the city, recollected the couple.
Renat, short of breath, recalled: "It was very scary when Russian planes flew and bombed [over us], Lucas laid down on the floor and said that he was very scared, and we lay down on top and covered him with our bodies. Honestly, I don't wish anyone what the Ukrainian people are going through now".
As soon as the Ukrainian military was able to expel the Russian military and free the passage, the family of three immediately got into cars with their friends and drove off.
They all reached Luxembourg and immediately registered online at Luxembourg's Directorate of Immigration. This Directorate comprises various services, including the Department for Foreigners, the Department for Refugees and the Department for Returns. It also has an European Affairs Department and a Legal Department.
A month later, Inna and Renat were called for an interview, where everything went quickly and they were given temporary protection status, for an initial period of one year.
Luxembourg's Ministry of Foreign and European Affairs, and the Ministry of Labour, Employment and the Social and Solidarity Economy, had earlier published the procedure for requesting temporary protection online at: https://guichet.public.lu/en/citoyens/immigration/ukraine/protection-temporaire.html. Detailed information on the reception of people who have fled the war in Ukraine is also available online via: www.maee.lu/ukraine.
The couple had never been to Luxembourg before but their arrival was "more of a choice of heart, probably because it reminds us of our small, picturesque town", recalled Renat.
Inna, Renat and Lucas were welcomed by the family of Herman Kuhnel and Marie Louise Kuhnel-Keijzer, Luxembourg nationals, who offered a studio apartment to the Korobka family in-kind.
Talking to Chronicle.lu, Mrs Kuhnel-Keijzer, said: "We were very lucky to host the family. They are kind and respectful, and now part of our family". Mr Kuhnel and Mrs Kuhnel-Keijzer, a retired couple, felt it was their responsibility to help and were "very happy to have them". The Korobka family are welcome to stay with them for as long as it takes for Inna and Renat to get back on their feet and have a stable income.
Inna and Renat described Mr Kuhnel and Mrs Kuhnel-Keijzer as "wonderful, kind people with an open heart who accepted us as family and to whom we are very grateful". Mr Kuhnel and Mrs Kuhnel-Keijzer also helped the Korobka family to register at the municipality as well as to register Lucas in a nursery school. The municipality processed everything very quickly and treated their situation with understanding, recalled Inna and Renat. Mr Kuhnel and Mrs Kuhnel-Keijzer continue to help them in many different ways, emphasised Renat.
Inna and Renat are now looking for jobs and would also like to continue to work in their speciality, offering dance classes to children and adults. "But for this, [we] need to rent a dance hall, and we have no funds for this. I would like to get some kind of contract, then it might be easier", said Renat. He added that in their particular situation, as professional ballroom dancers, in addition to a dance hall, they are required to register as self-employed and pay taxes before they can offer dance classes to the public. "But we don't know how to pay if there is still no stable income", said Renat.
The couple said that they know it is very difficult to start life from the beginning, "but the main thing is that our family is together and we are alive". Lucas is interested in kickboxing, swimming and dancing, they shared.
Inna speaks Ukrainian and Russian fluently, while Renat also speaks English. Both are willing to learn other languages, so that they can live and work in Luxembourg.
"We are strong-willed and hardworking, which means we will succeed", concluded Renat Korobka, feeling determined and hopeful about his family's future in Luxembourg.