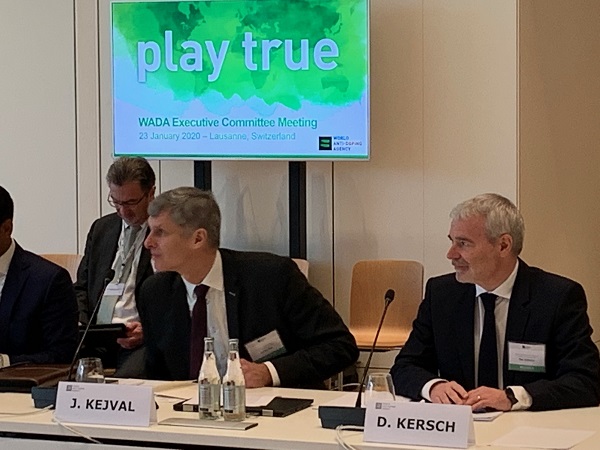 L-R: Jiri Kejval, member of the WADA Executive Committee, representative of the National Olympic Committees; Dan Kersch, European Representative, Luxembourg's Minister of Sport; Credit: MSP
On Thursday, Luxembourg's Minister of Sports, Dan Kersch, participated in his first meeting as European representative on the Executive Committee of the World Anti-Doping Agency (WADA); the WADA meeting was held in Lausanne, Switzerland.
On the agenda of this meeting were several important points, such as WADA's strategic plan for the period 2020-24, the implementation of reforms to the agency's governance, the appointment of the chairs of several WADA standing committees and the term of office of the Athlete Committee Chair.
This meeting was also an opportunity to take stock of the Russian situation following the declaration of non-compliance by the Russian Anti-Doping Agency for four years approved last December, taking into account in particular the procedure brought before the Court of Arbitration for Sport.
The meeting opened with a welcome speech from International Olympic Committee (IOC) President, Thomas Bach, who stressed that it would be necessary in the future to focus more on the responsibility of the entourage of athletes. WADA President Witold Banka, who chaired this meeting, then welcomed Dan Kersch while highlighting how difficult but also rewarding his new role could be.
During the examination of the points on the agenda, Dan Kersch presented and defended the European positions. He also intervened to express his opinion on certain points, particularly that the WADA Athletes Committee must be able to continue to choose its president, contrary to what is envisaged by WADA. Luxembourg's Minister of Sports also encouraged the establishment of an additional anti-doping laboratory in Africa, a continent which has only one accredited laboratory, located in South Africa.
Dan Kersch is required to exercise the position of European representative on the WADA Executive Committee for three years following his appointment by the Committee of Ministers of the Council of Europe in October 2019.