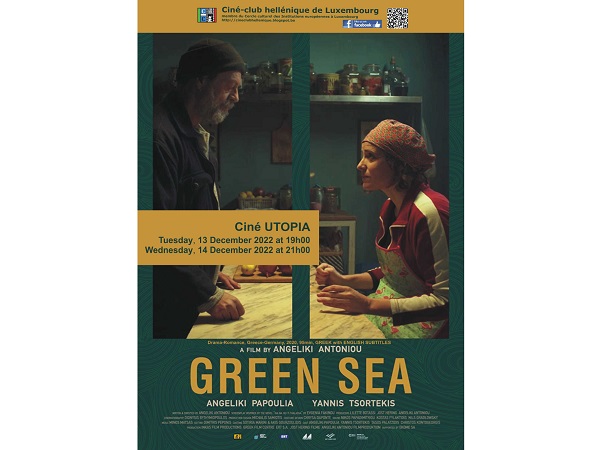 The Ciné-club hellénique de Luxembourg (Greek cinema club) has announced that it is screening the 2021 Greek film "Green Sea" at Ciné Utopia in Luxembourg-Limpertsberg on Tuesday 13 December at 19:00 and on Wednesday 14 December 2022 at 21:00.
"Green Sea" (Greece, 2021, 87 min, colour and black and white), directed by Angeliki Antoniou, will be screened at Ciné Utopia in the original Greek version with English subtitles. The film is suitable for children over the age of sixteen.
Synopsis: Anna has lost her memory, but she has not forgotten how to cook. One night she shows up in a working class neighbourhood by a Greek harbour. There she meets the unpredictable loner Roula and gets a job as a cook and a place to stay at his shabby tavern. In the kitchen, amidst the scents of spices and old forgotten recipes, Anna struggles to recall her past and rebuild her life. Her simple yet delicious food awakens memories to the locals, who in turn help her to reconnect with herself. The story takes an unexpected turn when Roula suddenly discovers Anna's true identity.
Cast: Angeliki Papoulia, Yannis Tsortekis, Tasos Palatzidis, Christos Kontogeorgis, Vasso Iatropoulou, Stefanos Kosmidis, Meletis Georgiadis and Anetta Papathanasiou.
Director: Born in Athens, Angeliki Antoniou studied Architecture and film direction at the DFFB (German Film and Television Academy in Berlin). She works as a screenwriter, director and producer. She lives between Berlin and Athens. She has directed short films, feature films and documentaries. Her films have been awarded in international festivals and distributed worldwide. Her acclaimed film "Eduart" participated in over 50 festivals around the world, was selected by the European Film Academy (EFA) for the 2007 European Film Awards and was Greece's submission for Best Foreign Film 2008.
Tickets for the upcoming screening cost €9, or €5 for members of the Greek cinema club. Tickets can be purchased at the cinema, just before the screening (cash only). Reservations (optional) can be made via email: cineclubhellenique@gmail.com or via the club's Facebook page. Pre-payments can be made via digicash (+352 621 228 586) or by bank transfer to Ciné-club hellénique de Luxembourg, BIL (BILLLULL), IBAN LU 33 0029 1742 8220 0000.