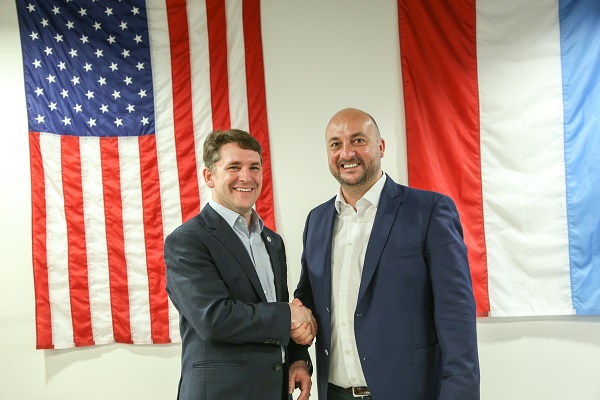 Etienne Schneider (on right) in 2016 at Space Resources investment signing; Credit: MECO
The Luxembourg Space Agency has announced that Etienne Schneider, former Deputy Prime Minister and Minister of the Economy, has been appointed to the Space Resources Advisory Council, with other mandates to the council being renewed.
Set up in 2017 as part of the implementation of the strategy of the SpaceResources.lu initiative, the Space Resources Advisory Council has as its main mission to support the government on themes related to the exploration and use of available resources in space. Animated and managed by the Luxembourg Space Agency, this advisory body is made up of renowned international experts in the space field.
The Government's cabinet has renewed all mandates of the current members of the Space Resources Advisory Council for a period of two years. In addition, it has approved the appointment of Etienne Schneider, initiator of SpaceResources.lu, as a new member of the coulcil, withour remuneration.
Following the publication of the Grand-Ducal decree of 29 July 2020 in the Official Journal, the "Space Resources Advisory Council" is therefore composed as follows:
• Jean-Jacques Dordain, former Director General of the European Space Agency
• Professor Junichiro Kawaguchi, Senior Fellow of the Japan Aerospace Exploration Agency
• Professor Seung Jo Kim, former president of KARI (Korea Aerospace Research Institute)
• Jean-Louis Schiltz, visiting professor at the University of Luxembourg and former Minister of Communications in Luxembourg
• Étienne Schneider, former Minister of the Economy in Luxembourg
• Georges Schmit, former executive director of the "Luxembourg Trade and Investment Office" in San Francisco
• Dr Pete S. Worden, former director of the NASA Ames Research Center
• Professor Ji Wu, Director General of the National Space Science Center (NSSC)