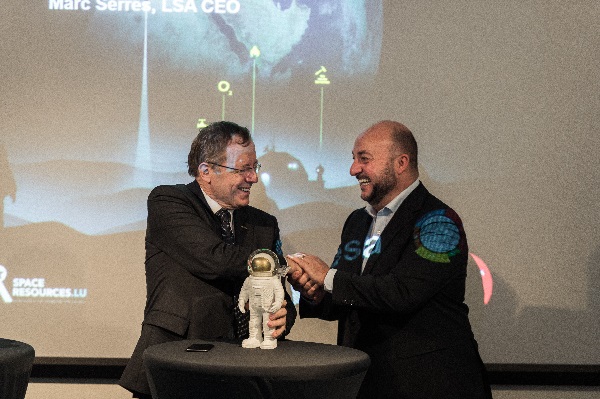 L-R: Jan Wörner, ESA Director General; Étienne Schneider, Deputy PM, Minister of the Economy; Credit: Luxembourg Space Agency
Luxembourg is set to launch a new innovative research centre dedicated to space resources.
During his visit to the European Astronaut Centre in Cologne (Germany) on Friday, Luxembourg's Deputy Prime Minister and Minister of the Economy, Étienne Schneider, announced the creation of a research centre dedicated to space resources in the Grand Duchy. The announcement was made in the presence of Jan Wörner, Director General of the European Space Agency (ESA).
This structure will be implemented in collaboration and in consultation with the Luxembourg research actors and institutions that have already been partners of the Luxembourg Space Agency (LSA) since its creation in September 2018. In line with the SpaceResources.lu initiative launched in February 2016, the new centre will focus on scientific research related to the extraction and processing of resources that exist in space, such as water or regolith.
There are also plans to extend the activities of this structure to make it a real innovation centre dedicated to space resources with an international dimension. To achieve this, Luxembourg is exploring avenues of cooperation with the ESA to achieve their common objectives in space research. On a larger scale, the innovation centre will then have a European scope, including other additional functions such as business support or knowledge management.