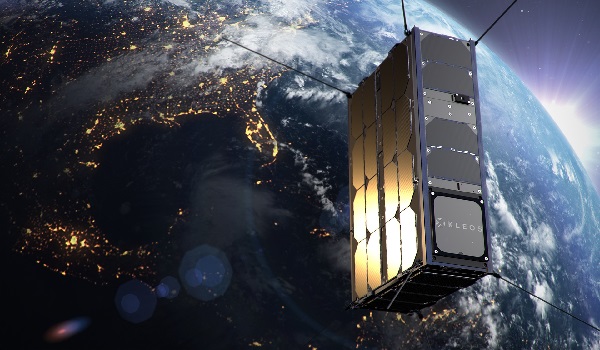 Credit: Kleos Space
Kleos Space, a space-powered Radio Frequency (RF) Reconnaissance data provider based in Luxembourg, today announced that it has been awarded a contract to participate in the United States Air Force's Catalyst Space Accelerator programme (CSA).
The newly appointed Vice-President of Business Development for the program, Danny McGrane, will represent Kleos Space in the twelve-week, semi-residential CSA programme, located in Colorado Springs. The CSA is sponsored by the US Air Force Research Lab's Space Vehicles Directorate and is designed to increase the Air Force's awareness and rapid acquisition of commercial dual use space technology by providing relevant business development training to CSA companies and connecting them with users, decision makers and potential new customers in the US Department of Defence and commercial realms.
The programme connects participants with customers and providing "sherpas" to steer military and commercial engagement. It has delivered roughly €9 million (US$10 million) in follow-on funding and over a 100 military contracts to its past participants over three cohorts so far. The CSA also offers dynamic programming in close proximity to eleven military bases and space-related military units. The requirements of the programme will support Kleos Space through the Kleos Scouting Mission.
Kleos' CEO Andy Bowyer commented: "We are entering an exciting era in space where technologies, long considered to be things of science fiction, are becoming reality. Since the first space-based reconnaissance imagery was captured on photographic film by the Discoverer 13 nearly sixty years ago, US space-based intelligence, surveillance and reconnaissance (ISR) technologies have greatly evolved and transformed the nature of warfare, providing an unprecedented level of "foreknowledge" to US Service Personnel and to US national security." He added: "They provide the unique capability of persistent, long-term, remote sensing and encompass many applications. To deliver these capabilities requires the development and integration of advanced sensors, complex algorithms, data processing and novel ideas that result in disruptive technology".
Danny McGrane has been appointed by Kleos Space to deliver the CSA programme and the resulting opportunities. Danny is a highly experienced former Royal Navy officer, NATO Deputy Chief in the US and Programme Manager for Joint Forces Command in the UK.