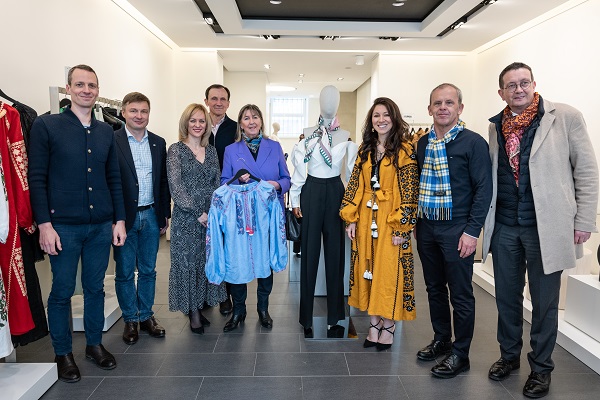 ArtCodeUa Inauguration; Credit: VdL
On Thursday 16 March 2023, the college of the mayor and aldermen of the City of Luxembourg officially opened five new pop-up shops in Luxembourg-Ville.
These new openings now bring the number of pop-up shops managed by the City of Luxembourg to eight.
Gaïame, located at 38 Rue Philippe II, aims to introduce the public to products that improve their daily lives. Among a wide range of items, visitors can find lithotherapy stones, water bottles with crystals, interior decorations, natural cosmetics, purification incense, bath salts and candles, jewellery and books for children and personal development.
ArtCodeUa, located at 40 Rue Philippe II, offers exclusive Ukrainian designers' products, with 40% of the proceeds from sales going to aid organisations active in Ukraine. The initiative was initially launched as a social media survey inquiring which artists participants thought best represented Ukraine internationally. More than 500 painters, sculptors, designers and other creatives were selected to participate in ArtCodeUa.
Lux Medina, located at 25 Rue des Capucins, offers 100% handmade products from traditional Moroccan crafts: pottery, ceramics, wall lamps, lighting, etc., as well as a range of decorative objects for the home and garden.
Astartelux Jewelry, located at 26 Rue des Capucins, is a boutique specialising in ethical and sustainable jewellery. The brand aims to revive ancient craftsmanship and contribute to the conservation and preservation of the world's cultural heritage by drawing on the techniques and methods of ancient civilisations.

The STOSSIMHIMMEL jewellery studio, located in the textile industry district in the heart of Vienna and now temporarily present in Luxembourg City, is run by seven designers working under the motto of "consciously unique". The Austrian brand's enthusiasts consciously opt for individual jewellery design and sustainable working methods distinct from mass production. At STOSSIMHIMMEL, they show diverse facets of the art of jewellery and stylistic diversity and have been in business for over 26 years. STOSSIMHIMMEL will use the traditional "Bretzelsonndeg" occasion to offer its pretzel collection.
Current pop-up shops and tenants:
• STOSSIMHIMMEL (43 Grand-Rue), open 16-19 March 2023
• Tipp Topp Art Studio (3 Rue Origer), open until 17 April 2023
• Gaïame (38 Rue Philippe II), open until 28 April 2023
• Made by Ghigi (43 Grand-Rue), open until 30 April 2023
• Lux Medina (25 Rue des Capucins), open until 2 May 2023
• Bonne Nouvelle (Charly's Gare - 16a Avenue Emile Reuter), open until 4 June 2023
• Artcodeua (40 Rue Philippe II), open until 4 July 2023
• Astartelux Jewelry (26 Rue des Capucins), open until 5 July 2023
Through the "pop-up stores" project, the City of Luxembourg aims to promote entrepreneurship and contribute to the creation of a diversified commercial offer in the capital while allowing creators, traders or startups to test their product, service or concept and to be in direct contact with their customers.