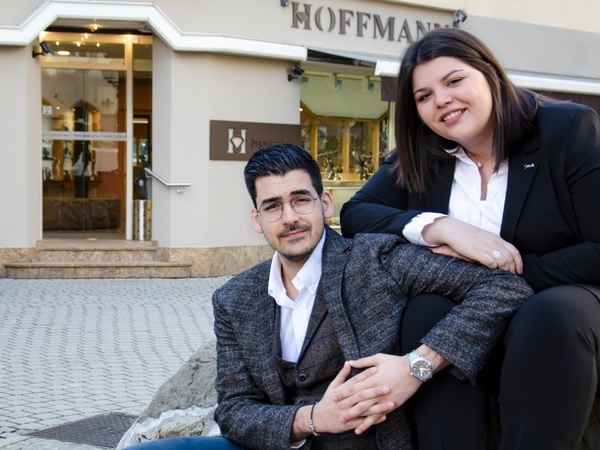 (L-R) Jeff Costa and Roxann Hoffmann; Credit: Bijouterie Hoffmann
Local jewellery and watchmaking family business Bijouterie Hoffmann recently opened a new shop in Luxembourg City, moving into the former premises of fellow Luxembourg jewellers Bijouterie Wagner at 5 Avenue de la Porte-Neuve.
The start of 2023 marked the end of an era for Bijouterie Wagner, which has now permanently closed its doors after more than a century. Founded in 1921, the family business passed to a third generation of master watchmakers and jewellers in recent years; Cathy and Claude Wagner recently announced their decision to pursue new opportunities, leaving room for fellow family-run jewellers Bijouterie Hoffmann to set up shop in the Luxembourg capital.
In 1956, Gusty Hoffmann and his wife Juliette founded Bijouterie Hoffmann in Grevenmacher, in eastern Luxembourg. Four decades later, in 1996, the couple's eldest son - and master watchmaker - Tom Hoffmann took over the family business at 1 Grand-Rue, and hired a master jeweller to complement his own watchmaking skills. In 2005, Tom Hoffmann opened a homeware shop, Tommy's, opposite the original shop in Grevenmacher; in 2018, Tommy's reinvented itself as a lifestyle shop, also selling fashion watches, jewellery and other accessories in a more relaxed setting. Shortly afterwards, the Hoffmann family opened a second fashion jewellery and watch shop, CATWALK, in the Copal shopping centre in Grevenmacher. In January 2020, a third generation took over Bijouterie Hoffmann, Tommy's and CATWALK: Roxann Hoffmann and her husband Jeff Costa took on the task of continuing the Hoffmann story and tradition.
Chronicle.lu recently spoke with Roxann Hoffmann about the decision to open a fourth shop, in Luxembourg City, and what the family business hopes to achieve through this expansion.
Chronicle.lu: What does this new store opening mean for the family business in terms of business development, expanding your customer base, etc.? What are your hopes and expectations for the new store?
Roxann Hoffmann: Our family business already exists for 67 years. My grandparents started out in Grevenmacher and later on, they opened a second shop in Luxembourg City. In 1996, my father took over the Grevenmacher shop and my aunt, Maryse Hoffmann, took over the shop in Luxembourg City. So, our family has always been in Luxembourg City. In 2019, my husband and I then had to choose between Grevenmacher and Luxembourg City. We chose Grevenmacher as it is also our hometown. However, we always had the intention to open another shop again in Luxembourg City.
Our hopes and expectations are to bring our expertise and our generational reputation to other customers; for our existing and hopefully new clients to understand that we are one of the last few jewellery shops whose jewellers and watchmakers work in-house. Also, for people to see that we ourselves are always in the shop and that we like to serve our clients in the friendliest and most professional way we can.
Chronicle.lu: What is the philosophy of Bijouterie Hoffmann as a family business and will this stay the same with the opening of this new store? You have a couple of other shops in Grevenmacher - do these share the same philosophy?
Roxann Hoffmann: We have three shops in Grevenmacher: our main jewellery shop Bijouterie Hoffmann where we sell haute gamme [high-end] jewellery and watches, Tommy's which is a fashion jewellery shop and concept store and then there is CATWALK which is in the Copal shopping centre and is also a fashion jewellery shop, and then obviously our new shop in Luxembourg City which is again a shop with haute gamme jewellery and watches. The idea of all these different shops is to contact and interest young clients and guide them through their life with adequate offers in our four shops.
As far as our philosophy is concerned, it has always been the same and we will continue to work within that philosophy we hope for generations to come. Customers always come first and our staff who have mostly been with us for years have been trained in this manner. Our new staff are also trained to be polite, respectful and to do the utmost that they can to satisfy each customer's individual needs.
Chronicle.lu: Who is in charge of running the new store and how many staff are working there?
Roxann Hoffmann: My husband Jeff Costa, who has fifteen years of experience within our shops, is responsible for the Luxembourg City shop and he is accompanied by one of our salespersons and a permanent watchmaker.
Chronicle.lu: What led to the choice of space, i.e. taking over the former premises of fellow jewellers Bijouterie Wagner?
Roxann Hoffmann: Mr Claude Wagner, who is now retired, is an old friend of my father, as they both were in a watchmaking school and they did their master together. The two companies were also family-run businesses, and since I wanted to anyway open a new shop to showcase jewellery for which we have the exclusivity for Luxembourg, it only took one phone call and we had made our decision.
Chronicle.lu: Bijouterie Hoffmann in Grevenmacher was founded in 1956. What have been some of the highlights - and challenges - for the business over the past 67 years? What do you believe makes a family jewellery and watchmaking business successful today?
Roxann Hoffmann: There have been many challenges over the years for each generation and probably there will be more to come. We have, however, since the beginning always tried to have experienced atelier workers in both jewellery and watchmaking who support our salespeople and naturally also our customers. Finding experienced craftspeople has always been a challenge. Understanding the needs of our clients during these difficult times of war and crises and always having jewellery or watches for each budget is also a challenge. Also keeping clients aware of new trends and styles that hopefully excite them and that they like which would drive them to want to buy new jewel[lery] or a watch is also an everyday challenge.
Highlights have also been many, including the advertising campaign that my father did with Yves Kortum [the photographer]. Our atelier making the crowns for future Moselle Wine Queens, which I had the honour to be in 2015 and where I got to wear a new crown made that year. Another highlight for me was the day my father asked me if I wanted to reprise the business from him. This then giving me an opportunity to bring my ideas and individuality to Bijouterie Hoffmann as well. I believe that we are still successful today as we work as a family and our staff are considered as family too.
Chronicle.lu: In your experience, (how) has the jewellery and watchmaking industry been impacted by COVID-19 and now the war in Ukraine/the energy crisis?
Roxann Hoffmann: COVID-19 was not a great problem for us as we found that during this time, which is ongoing, clients wanted to [treat themselves] and we had clients who bought themselves nice jewellery or watches even though they could not go out and show off their new purchase.
The Ukrainian war, however, is another subject and is very hard to understand, and it has impacted people in other ways. We still do not know what the full impact of this war will be and people are more cautious because of it. This does not only affect our branch but every branch of business. People are not buying anything as they used to.