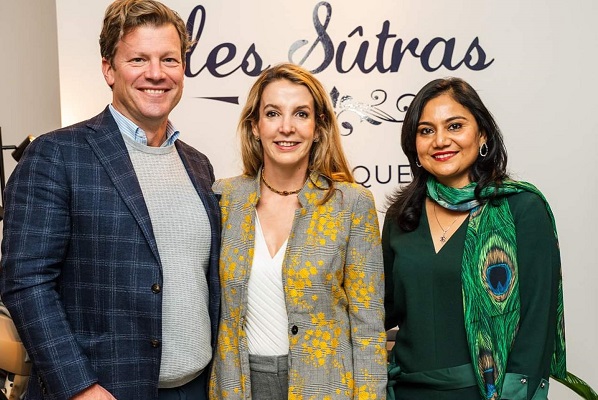 (Above) Tessy Antony de Nassau and husband Frank Floessel pictured with Les Sûtras founder Zenia Dutta Roy; (below) Tessy Antony de Nassau and Frank Floessel cut the ribbon; Credit: Svitlana Vostrova
Les Sûtras, a Luxembourg-based designer fashion brand with a social purpose, inaugurated its first permanent boutique in Luxembourg City over the weekend.
Founded in November 2016 by expat mother Zenia Dutta Roy, Les Sûtras has officially opened its first exclusive boutique at Galerie Beaumont on Grand-Rue in Luxembourg-Ville. Former princess Tessy Antony de Nassau, who, like Ms Dutta Roy, is a mother and social entrepreneur, was present with her husband, Frank Floessel, to cut the ribbon at the inauguration ceremony on Friday evening.
In an interview with Chronicle.lu, founder Zenia Dutta Roy explained how her business initially took off through word of mouth. As well as being present at various exhibitions, the brand had a pop-up store in Diekirch for eight months last year, before moving in to another pop-store in the capital earlier this year.
An Indian-Luxembourg national having lived in the Grand Duchy for thirteen years, Ms Dutta Roy had long hoped to "bring the culture of both countries together". She mainly collaborates with female artists, following the motto "women supporting women", and avoids fast fashion. Instead, the brand opts for ethical and sustainable materials and products. Ms Dutta Roy is responsible for the concept and the design here in Luxembourg, whilst the items are produced in her workshop in India.
As part of the founder's desire to give back to society, Les Sûtras has formed a collaboration with Aide à l'Enfance de l'Inde et du Népal (AEIN), a Luxembourg non-profit supporting children in India and Nepal. For every product purchased, a part of the profits is donated to AEIN to sponsor the education of children in India.
Les Sûtras offers a range of scarves and women's accessories, as well as personalised home products and bridalwear (in collaboration with Luxembourg-based designers). Ms Dutta Roy described the brand's fashion items as "timeless", adding that "[e]very piece we wear says who we are, I feel it is very important to style ourselves in a way that reflects our personality, thoughts as well as ideas".
As well as being available online at lessutras.com, these items can now also be viewed and purchased in person in the new Les Sûtras boutique, located in Galerie Beaumont (Paris 8 entrance) at 56 Grand Rue in Luxembourg-Ville. The shop opened its doors on 15 September, but the official inauguration was held on Friday 1 October 2021.