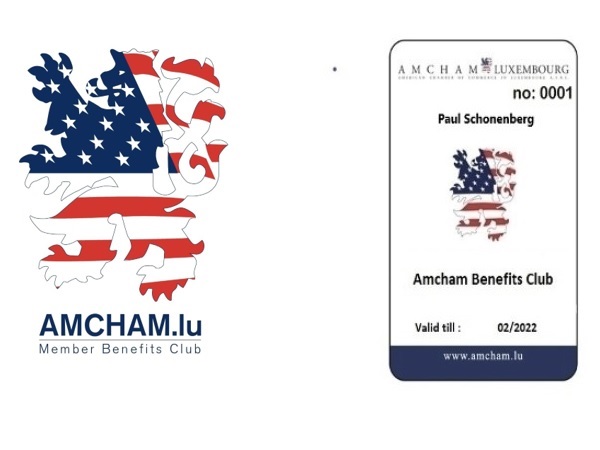 The American Chamber of Commerce in Luxembourg (AMCHAM) has recently launched a Member Benefits Club (AMBC) as an initiative to help member companies affected directly and indirectly by the continuing restrictions surrounding the COVID-19 pandemic.
To date, 150 establishments across Luxembourg and the Greater Region have signed up to participate, all offering discounts on purchases (at least 10%, and sometimes up to 20%). These include retail stores, service companies, restaurants and hotels, including stores at the McArthur Glen outlet mall in Messancy, Belgium, the Aelia duty free store at Lux-Airport, DKV / LaLux insurance, the EXKI chain of health food cafés, florists, Inlingua language training, Old School Barbers, Pizza Hut, the Goeres hotel group and many, many more. For a full up-to-date list, see https://www.amcham.lu/amcham-benefits-club/
AMCHAM members are entitled to a certain number of free cards (based on membership category) and can buy additional cards for other staff members, their spouses and partners for only €10 per card (with a two year service life before expiration).
AMCHAM's Chairman, Paul Schonenberg, announced "We are incredibly excited to be launching a program to help retail establishments gain access and business from our AMCHAM members on terms and conditions that benefit our members and their employees as well as the merchants who volunteer to partner with us.".
He explained how AMCHAM has launched this initiative to help the relaunch of the retail economy, to help quality retailers, member organisations and their employees. He explained "We are not doing this to make money, but as a corporate responsibility initiative" and also described it as "a worthy public service initiative".
He also stated "We all know that retailers are struggling for the moment to get foot traffic into their establishments and do not have a lot of money to spend on advertising. Likewise, many companies are unable to give their employees pay raises, bonuses and other benefits… and employees are frustrated to improve their purchasing power."

For further details, email: mbc@amcham.lu or see https://www.amcham.lu/amcham-benefits-club-presentation/