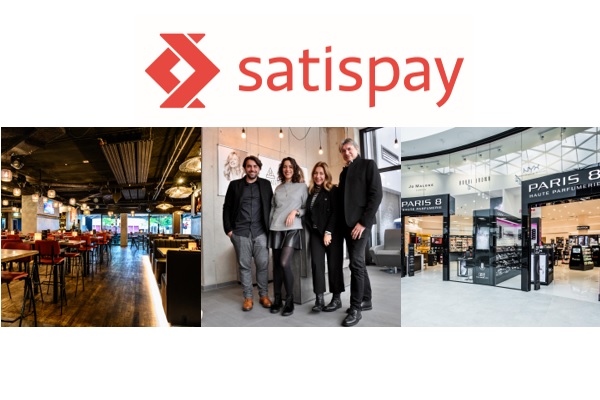 Satispay, an innovative bank account-enabled mobile payment solution, completely independent from credit/debit card networks, has announced that it is significantly expanding its merchant network in Luxembourg by adding four large and well-known brands to the already long list of commercial outlets where people can pay with Satispay.
Now hairdresser group Ferber, the restaurant groups Concept+Partners (including Hitch, Fabrik, Siegfried, Kin Khao, Meat Point, among others) and Manso Group (including El Barrio, Piri Piri, The JFK, Gringos, ELA among others) as well as the beauty chain Paris 8 offer Luxembourgers the benefits of paying with Satispay in all their salons and restaurants in the country.
These organisations adding Satispay as a payment option does not only illustrate the increased interest in new digital payment solutions in Luxembourg, it also marks a new phase in Satispay's growth as they are with the first multi-outlet brands to join the network. They and all retailers that are already part of the Satispay network in Luxembourg, will be able to take advantage of the "30% Christmas Cashback"-campaign in the run-up to the festive season.
200+ merchants already offer Satispay's payment method
Satispay has proven to be a supportive and solid partner for merchants, resulting in a network of almost 200 Luxembourg merchants since its launch. Satispay is a mobile payment solution which benefits both the consumer and the merchant - thanks to its low fees - via a safe and secure electronic payment method that is easy to use and meets all requirements of today's consumers, social distancing for instance, a solution that is particularly popular in the hospitality and beauty sector.

Alberto Dalmasso, co-founder and CEO of Satispay, stated "We are very happy to welcome these merchants to our network. Our motto is 'Do it smart'. It is nice to see that an increasing number of businesses realise that payment is an important part of the customer experience. An easy, safe, and secure method can make a difference. We are convinced these new members of our payment network are about to experience just that."
30% Christmas cashback campaign
Satispay "Cashback" campaigns offer consumers a partial refund on purchases made via the app in physical and online shops. The aim of the "30% Christmas Cashback" campaign the company is launching in Luxembourg is to support local retailers and consumers in the run-up to the festive season, while promoting safe and secure distance payment, especially with COVID-19 still being a serious threat. The campaign starts on 4 December and will run on the first three Fridays and weekends of December (4, 5 and 6/12 - 11, 12 and 13/12 and 18, 19 and 20/12). Customers who pay with Satispay will receive an instant refund of 30% on their purchases, with a maximum of €30 per weekend. Satispay finances the cashback, so merchants will receive the full price of their products and services.

The cashback-campaign offers retailers two major advantages: they benefit from Satispay's low fees - no charge for purchases under €10 and just €0.20 for purchases over €10 - and can also leverage the campaign to promote their business, attract new customers and build loyalty among existing customers.
About Satispay
Satispay is a Fintech company founded in 2013 by Alberto Dalmasso, Dario Brignone and Samuele Pinta in Cuneo, Italy. The vision of the tech pioneers was to create a smart, independent and fair digital payment system. The service was launched in Italy in 2015 and in the German and Luxembourg market in April 2020, setting the first milestone to create a pan-European smart payment system. Today, around 1.3 million satisfied customers regularly use Satispay in over 130,000 stores throughout Italy, Luxembourg and Germany. In Luxembourg, around 200 merchants such as Auchan, Paris8, Ferber, The MansoGroup, Concept+Partners, Urban Bar, Bazaar Bar and Restaurant, Bistrot Beim Renert, Maestri Della Pasta, Häagen-Dazs, Kaempff-Kholer Boutiques and Restaurants are now collaborating with Satispay to offer their customers this contactless and secure means of mobile payment.