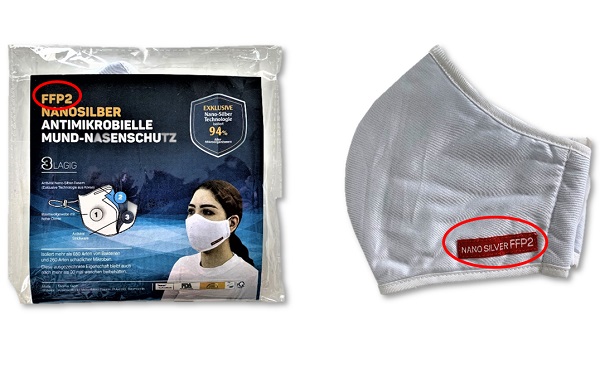 Credit: ILNAS
The Luxembourg Institute for Standardisation, Accreditation, Safety and Quality of Products and Services (ILNAS) has issued a safety warning and recall for FFP2 face masks.
As part of its market surveillance activities, ILNAS issued a safety warning concerning the product "FFP2 NANOSILBER ANTIMIKROBIELLE MUND-NASENSCHUTZ". These masks have been withdrawn from the market and recalled from consumers due to failure to meet the requirements of FFP2 personal protective equipment and protect against viruses.
The product in question is the antimicrobial respiratory protection mask - FFP2 NANOSILBER, produced by HANVICO, with the EAN code 4260614260160. All lots are affected. Identical masks without the mention FFP2 are not concerned.
Customers in possession of this product are requested to stop using it and dispose of it in household waste. They can be refunded in pharmacies on presentation of the receipt.