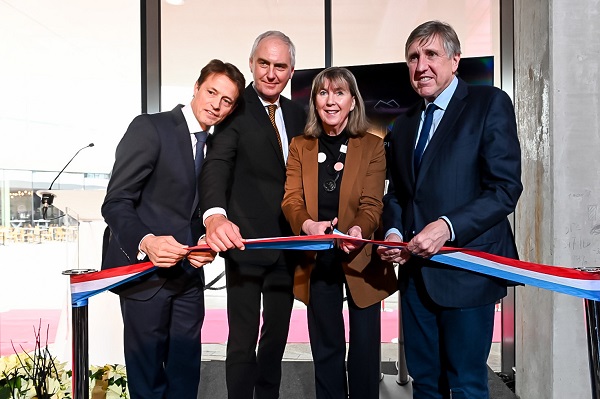 Credit: IMMOBEL
Retailers Immobel and Real I.S. yesterday inaugurated the Infinity Shopping complex in Luxembourg-Kirchberg.
On Thursday 12 December 2019, Olivier Bastin, CEO of Immobel Luxembourg and Jochen Schenk, CEO of Real I.S. Group, officially inaugurated the Infinity Shopping complex in the presence of the Deputy Prime Minister and Minister of Mobility and Public Works, François Bausch, the Mayor of Luxembourg City, Lydie Polfer, and the retailers and partners of the project.
Following 30 months of works, 22 shops, bars and restaurants welcomed their first clients and unveiled their shops, structured around a concept of shopping-services. Infinity Shopping is 100% occupied.
Located opposite the Philharmonie Luxembourg, the "Live. Shop. Work." concept of this mixed use real estate programme with its contemporary design, is aimed at providing an example of a sustainable city, where all essential functions and services can be found.
The complex houses 22 brands: Delhaize; 5 à Sec; Fauchon; Tango; K Kiosk; Optic 2000; Leonidas; Lounge Act One; Jims Fitness; Wellnext; NM Coiffure; Planet Parfum; WLTT - We Love to Travel; Urban Move Passion'Elles; Cocottes; Golden Bean; Boulangerie Paul; Burger House; L'Osteria; Aka; Munhowen Le Chai.
Developed by Immobel, Infinity Shopping has been under the management of the Real I.S. group on behalf of the SMART fund since 4 November 2019.