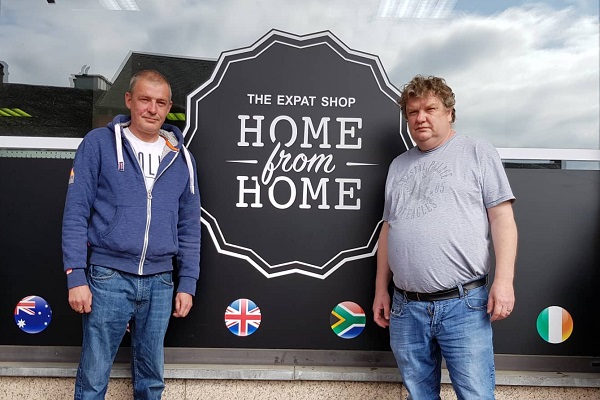 L-R: Mark Hollis; John Heffernan; Credit: Jazmin Campbell
Recent weeks have seen an increase in panic buying at the expat shop Home from Home, located in Luxembourg-Strassen, as fears of a no-deal Brexit intensify.
Speaking with Chronicle.lu, shop owners John Heffernan, an Irish national who has resided in Luxembourg since 2002, and Mark Hollis, a British national who moved to Luxembourg 22 years ago, explained how customers had started stockpiling certain products following the announcement that the UK would be leaving the EU on 31 October 2019 with or without a deal.
"One woman from Luxembourg came in and bought fourteen jars of marmalade", said John, who added that the customer's reasoning was that she was worried that there would be shortages of the imported product after Brexit. This woman was not alone in her fears. According to John and Mark, such cases are becoming increasingly common in their shop, with customers buying tea and custard powder, among other items, in bulk. Mark added that this week's meat products were already quite low on stock, despite a delivery over the weekend, when normally they would be quite full until Thursday.
And it is not only customers who are concerned by the uncertainty of Brexit and the consequences of an increasingly likely no-deal; as a small business that relies heavily on British and Irish products, Home from Home could suffer from higher tariffs and longer waiting times at Calais – indeed, John and Mark drive over from Luxembourg to the UK each week for stock replenishment. The pair have already noticed increased delays at the French border, which are likely to worsen as the Brexit deadline draws nearer.
For his part, Mark cited "uncertainty" as the worst part of the situation, as everyone is being told to prepare for Brexit but no one knows what Brexit will actually look like. The only information businesses such as Home from Home have received to date has been the recommendation that they obtain an "Economic Operators Registration and Identification number" (EORI) in preparation for new customs declarations.
Speaking on Brexit in general, Mark, who was denied the right to vote in the Brexit referendum since he has lived outside the UK for more than 15 years, argued that the vote was not actually democratic since many of the British citizens who are most affected by the decision to leave the EU (UK nationals in the EU) were not consulted. He added that if he had not been in charge of the shop yesterday, he would have joined the anti-Brexit protest held in Place de la Clairefontaine during Boris Johnson's visit to Luxembourg.
Indeed, John, who did take part in the protest of some 80 people, found it both amusing and frustrating that some of the British press had tried to blame the Luxembourgish Government for organising the demonstration. In fact, protesters received relatively short notice of the British Prime Minister's visit and mobilised on the initiative of the newly created "British in Luxembourg" Facebook group (run by David Pike).
With the threat of a no-deal Brexit looming, John and Mark expect further panic buying from their customers at Home from Home in the weeks to come.