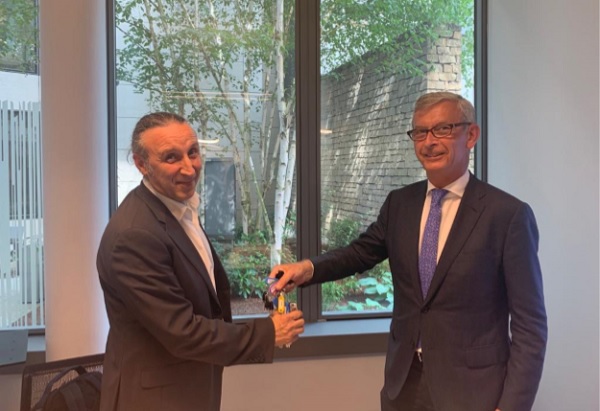 Paul Muyldermans (Codic Luxembourg) hands over the keys to Joaquim Gonzalez, Fna Group;
After the Galeries Lafayette last February and Delhaize at the end of May, it is the turn of FNAC to receive the keys of their commercial space in the Royal Hamilius shopping centre in Luxembourg-centre; the interior design work for the department store will begin shortly for an opening at the end of the year.
After the Galeries Lafayette and Delhaize, FNAC is the third store to receive its keys in accordance with the site planning, offering a world of culture, literature, entertainment and multimedia: this will be FNAC's first location in Luxembourg.
Charles-Henri de Maleissye, Managing Director of Fnac Benelux, stated "For FNAC, Royal-Hamilius is one of the most beautiful projects we have seen in recent times. We have been looking for a location in Luxembourg for a long time. Royal Hamilius was obvious. We intend to work on the specificities of the Luxembourg market by putting in place an adapted offer focusing on innovation".
The entrance to FNAC is at the corner of the two commercial pedestrian axes, Grand-Rue and Rue Aldringen, in the heart of the historic city.
The iconic building is designed by Foster & Partners and Tetra Kayser Associates.
The department store has a surface area of ​​2,000 m². The interior design work begins for an opening at the end of the year.
Thierry Behiels, CEO of Codic International, stated "The Royal-Hamilius project gives the possibility to big-ticket retailers to be able to set up in the city centre. Such spaces are exceptional in the hyper-centre. As such, the arrival of FNAC is an excellent vector of attractiveness of the city by ensuring complementarity with existing trade and boosting it. The diversification of the brands and the multiplication of the offer are particularly important to us: they are a real driver to increase the attractiveness of the city. For the Royal-Hamilius project, as for trade in general, FNAC is a real added value for the city. The Royal-Hamilius will become, we hope, a real centre of attraction which will also benefit all the shops of the city centre."
Galeries Lafayette, FNAC and Delhaize will soon be joined by a rooftop restaurant run by the Moma Group, with the handing over of the keys scheduled to take place in the coming weeks. 16 shops are being marketed in total. These are units on one or more levels, with a surface ranging from 30 to 630 m².