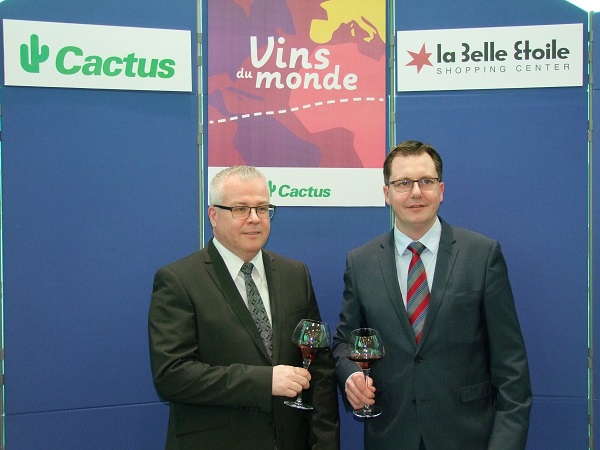 (L-R): Jean-Marc Hubertus, Cactus Wine Manager; Damien Lassance, President of the Cactus Wine Club;
Cactus supermarkets' annual Festival des Vins du Monde is being celebrated this year from Tuesday 26 March until Sunday 7 April 2019 at supermarkets throughout the Grand Duchy and at the Belle Etoile shopping centre in Bertrange.
Over this 13-day period, Cactus will have no less than 335 wines on offer from 16 different countries worldwide. wine-lovers and connisseurs will be able to taste wines (140 separate wines available for tasting) at the various Cactus locations and take advantage of discount offers - 66 wines will have discounts of 25% and more.
The tasting stands at the Belle Etoile will be open as follows:
- Mon-Thu @ 10:00-20:00
- Fri @ 10:00-21:00
- Sat 30 March @ 10:00-20:00
- Sat 6 Apr @ 10:00-19:00
- Sun 31 March @ 14:00-18:00
In addition, the following Cactus supermarkets will also be offering such tastings and discounts: Echternach, Bascharage, Redange, Ingeldorf, Howald, Bereldange, Mersch, Bettembourg and Remich.
On Wednesday, Cactus held a press tasting with Jean-Marc Hubertus, Cactus' Wine Manager, introducing some of the wines on offer, including from Spain, Australia, South Africa and Italy, with festival prices from €5.50 (discounted from €7.10) to €69.95 (discounted from €79).