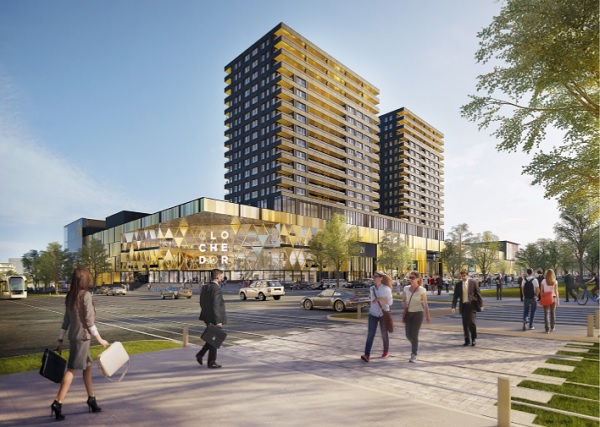 Cloche d'Or shopping centre & apartments;
On Wednesday 10 October 2018, a bouquet ceremony - a Luxembourgish tradition - was carried out at the Ban de Gasperich / Cloche d'Or concerning the new-generation shopping centre that will operate there with Auchan as its anchor tenant.
This will be the third Auchan supermarket in the Grand Duchy, following the first in Kirchberg and the second that opened last year in Differdange.
The bouquet ceremony celebrates the end of the structural works, a major stage in the construction of the mixed-use real estate development project.
The brainchild of a partnership between Promobe and Ceetrus, it comprises 250 luxury apartments with panoramic views over Luxembourg, overlooking the new generation Shopping Centre: Cloche d'Or. It is described as a much-awaited world-class development for Luxembourg and its greater region by Fabeck Architects and Shemel & Wirtz Architects.
The 75,000m² "Cloche d'Or Luxembourg" shopping centre will comprise 140 stores and 22 restaurants, it will be a point of reference because of the quality of its architecture and its comfort, and also as a lifestyle and social space on account of the dynamism of the creative and collaborative activities that will be available (yoga classes, co-creation with art schools, an international fashion show, summer classes, etc.). A unique services map, designed with both locals and foreign visitors in mind, is a focal point. Creative daycare, an à la carte concierge service, a fashion stylist, an international reception desk and valet parking will all be on offer to facilitate and enhance its visitors' lives. Digital media are put to good use, creating a smooth, trouble-free journey, not least due to the availability of smart parking, a website and applications that include the online booking of services.
Over 30% of Luxembourg's brand new flagship stores
With the aim of attracting over 11 million visitors annually, leading international brands previously unavailable in Luxembourg have been selected: ARKET – with fewer than 15 shops throughout the world - WEEKDAY, & OTHER STORIES, OYSHO, BERSHKA, IZAC, FINSBURY and COSMO PARIS, to name but a few.
Popular brands such as SCOTCH & SODA, COS, MASSIMO DUTTI, PULL & BEAR or the latest ZARA and H&M concept stores with their "Home" concept will complete the selection. There is also a Beauty section, with firm favourites such as celebrity hairstylist ALEXANDRE DE PARIS, AVRIL COSMETIQUES organic and natural cosmetics and the PARIS 8 perfumery.
Last but not least, the iconic 4,000m² World Foodhall with its view over Luxembourg will offer a range of 20 dining concepts and kiosks, including the famous BIG FERNAND, FACTORY & CO and BEEF HOUSE burgers.
Auchan Retail Luxembourg will roll out its new concept, a new generation, experiential store offering innovative shopping journeys over more than 12,500 m².
Pushing the limits of luxury
The two residential towers incorporate 250 fully modular apartments over an area of 25,000 m2. This prestigious new address has all the advantages of comfort, accessibility and innovation. Residents will enjoy private "smart parking" and a wellness & fitness area, and each apartment will be equipped with a latest-generation "DOVIT" home automation system that brings together control of all devices in a single interface with remote control.
This innovative system was also selected by the developer Grossfeld for the 4,000 housing units of the Cloche d'Or district.