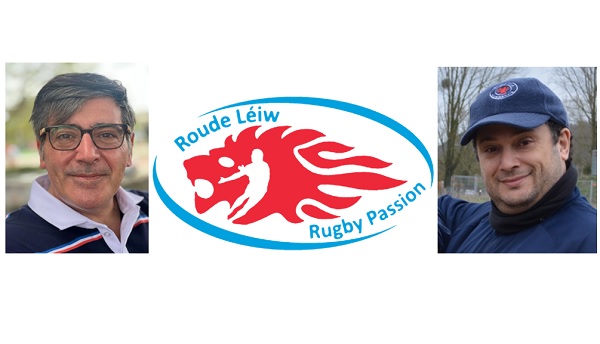 (L-R) Paskal Drapier; Pablo Chimienti;
A rugby supporters' club has been established in Luxembourg this year with Paskal Drapier as President and Pablo Chimienti as Vice-President, with also a Treasurer and Secretary appointed.

The Roude Léiw Rugby Passion – the Official Rugby Supporters Club of Luxembourg is for those who are passionate about rugby in general and Luxembourg rugby in particular. Those behind it describe it as "a space dedicated to rugby supporters with a particular interest in the national rugby teams of Luxembourg. We want to create a proud and passionate community, which aims to support and promote rugby across the country. We believe in the power of our sport to unite people and to create unforgettable moments."

According to the club's website, members "will benefit from exclusive updates, networking opportunities, meetings... and much more."

Chronicle.lu spoke with Paskal Drapier who commented: "The supporters' club originated from the collaborative efforts of four friends, all volunteering in the realm of rugby. We are actively involved in various organisations related to rugby events. Our group has united with the shared vision of harnessing this vibrant energy to make it accessible to everyone. Whether you are a parent of a player or simply a rugby enthusiast not necessarily affiliated with a club, our mission is to bring you together under a single banner, fostering a spirit of brotherhood and shared passion. We aim to spread our love for the game beyond the usual circles, reaching out to the entire Luxembourg community. By actively backing our national teams, competing in various categories - be it the budding talents (aged fourteen to eighteen) or the senior teams, both women and men - we aspire to share the thrills and joys that rugby has to offer. Our ambition doesn't stop here. We also endeavour to elevate the visibility and recognition of rugby in Luxembourg, a sport yet underappreciated in our region. Through our efforts, we hope to encourage more individuals to support our national teams, immersing themselves in the pulsating rhythm of matches and training sessions that are on offer."

He concluded by appealing for members to join, stating: "Join us in this exciting venture! All it takes is a simple registration on our website, rugbyroudeleiw.lu, to stay updated with the latest news and to actively participate in promoting rugby in our beautiful country."

To raise the club's profile, they are giving away tickets to readers of Chronicle.lu for one of the matches in the forthcoming Rugby World Cup which kicks off this Friday 8 September in Paris. Full details on how to apply to win these tickets will be published shortly.

For full details, see https://rugbyroudeleiw.lu.