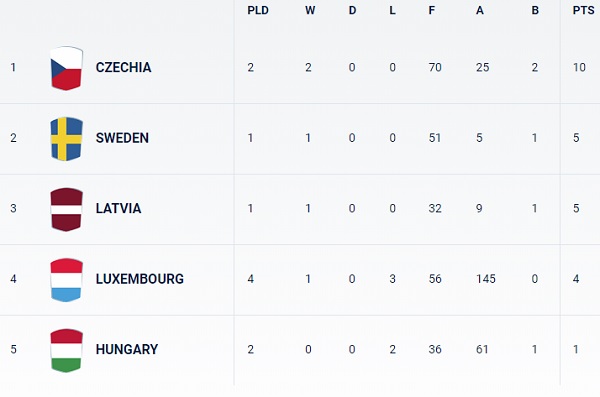 Following Luxembourg's home win over Hungary on 12 March 2022, the Red Lions played the Latvian national team at the Baldone stadium in Baldone on Saturday 2 April 2022.
The game was played within the Conference 1 North of Rugby Europe, the fourth tier of European rugby, comprising the Czech Republic, Hungary, Latvia, Luxembourg and Sweden.
After having lost their first two matches (at home to the Czech Republic 12-39, and away to Sweden 51-5), they defeated Hungary 30-23 last month to keep alive their hopes of staying in the division; however, Saturday's loss now means that relegation is a bigger threat.
Despite this being Luxembourg's 4th game of the division, this was Latvia's first game due to their longer winters and shorter playing season.
Latvia ran out 32-9 winners and leapfrog Luxembourg into 3rd place in the table. Latvia scored 4 tries, earning a bonus point in the process; all Luxembourg's points came from three penalties.
Michel FRACHAT took over head coach duties from Alexandre BENEDETTI, with the team showing six changes from the game against Hungary.
Luxembourg (Head Coach: Michel FRACHAT): 1. Victor Cedre, 2. Anton Agassi, 3. Filipe Campos, 4. Pierre Toulet, 5. Benjamin Silvestre, 6. Chobe Sweetnam, 7. Anthony Drennan, 8. Oisin Kilgallen, 9. Gareth Geoffreys, 10. William Browne, 11. Matteo Franzina, 12. Gauthier Bares, 13. Liam Carroll (c), 14. Clement Blary, 15. Hugo Bertani