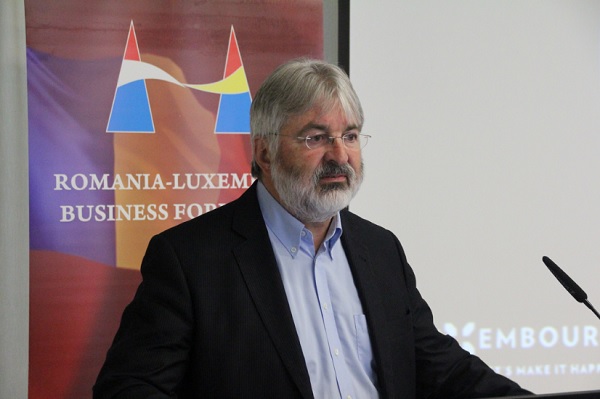 On Thursday 29 June 2017, the Romanian Entrepreneurs Network from Luxembourg and the Greater Region, an initiative of Romlux asbl, held an event on the eve of Asteroid Day.
The event included two exceptional speakers: Dumitru-Dorin Prunariu, the first Romanian Astronaut, and Georges Schmit, a prominent Luxemburgish civil servant member of the advisory board of the SpaceResources initiative.
On the eve of Asteroid Day the two speakers made those attending dream about incredible journeys and further development of space exploration. Mr. Prunariu made a summary of European space endeavours and recalled the story of his own space travel experience. He talked about the preparations, hard work and risks and also about the beauty of seeing the Earth from space and having the luck to land safely back on it. Mr. Prunariu is an ambassador of Asteroid Day, an initiative intending to bring awareness about asteroids, scientific research and facts about them, dangers and much more - see https://asteroidday.org for details.
Georges Schmit introduced the audience to the topic of Luxembourg's vision related to exploration of opportunities of SpaceResources.lu, the investments and innovation relating to this area as well as the pioneering work of promoting it in the world.
The event attracted 100+ participants and was organised by Romlux in collaboration with Da Vinci Association of Engineers, Architects, Scientists and Industrials, the American Chamber of Commerce and the Luxembourg Brazil Business Council.
This event was part of the Romanian Entrepreneurs Network project initiated by ROMLUX Asbl in 2013, having as its purpose to enhance the synergies in the Romanian entrepreneurial community and to increase business exchange with other entrepreneurs. The main goal of this initiative is to connect people and ideas, build bridges between people, projects, companies, both from Luxembourg and Romania.
Photo: Georges Schmit