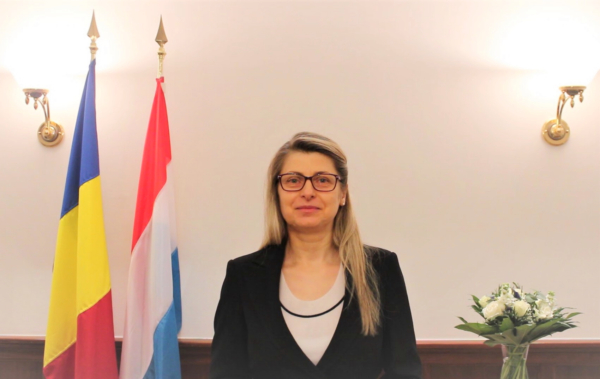 Alexandrina-Livia Rusu, Romania's Ambassador to Luxembourg; Credit: Embassy of Romania in Luxembourg
Romania is celebrating its national day, Great Union Day, today, Wednesday 1 December 2021
On this occasion, the Romanian Ambassador to Luxembourg, Alexandrina-Livia Rusu, shared a special message: "Today, we celebrate the National Day of Romania, a historical moment of deep significance and fundamental landmark for all Romanians, at home and abroad. It is an occasion to strongly reaffirm the fundamental values that define us as a nation, our attachment to the promotion of democratic norms and principles, to multilateralism and to respect for international law, in all circumstances. The Great Union Day of 1 December 1918 remains a symbol of our solidarity and a lesson that in determination and unity we can overcome all challenges".
Ambassador Rusu also celebrated Romania's bilateral ties with Luxembourg and commented: "Romania and the Grand Duchy of Luxembourg enjoy very good traditional and historical relations that need to be preserved and further developed, taking into account the European and global realities. We have to work towards strengthening of links between two EU and NATO member states and strong supporters of effective multilateralism, strict respect for international law and rules-based international order. I am convinced that together we will succeed to build a modern and ambitious agenda, to the benefit of our people".
According to the Government IT Centre (Centre des technologies de l'information de l'Etat - CTIE), as of 30 September 2021, there were 6,970 Romanian nationals living in Luxembourg, with the majority living in Luxembourg Citye (2,649). Another five municipalities are each home to more than 200 Romanian nationals: Esch-sur-Alzette (277), Hesperange (259), Differdange (254), Strassen (237) and Mamer (206).
Addressing the Romanian community in Luxembourg, Ambassador Rusu noted: "Dear Romanians in Luxembourg and the Greater Region, On the occasion of the National Day, I extend to you sincere wishes of health, confidence and prosperity". She also emphasised: "I would like to pay tribute to the Romanian community living and working in Luxembourg, deeply integrated into the multicultural and multilinguistic Luxembourgish society and significantly contributing to the local economy".
The Romanian Ambassador concluded with the words: "Happy National Day Romania! La mulți ani tuturor românilor!"
The Romania-Luxemburg Business Forum Asbl (ROMLUX) and the Romanian Entrepreneurs Network in Luxembourg and in the Greater Region (REN) are organising a national day celebratory event on 1 December 2021 from 18:00 to 21:00 at Café - Brasserie Marionnette (15 Rue de Strasbourg, 2561 Luxembourg).