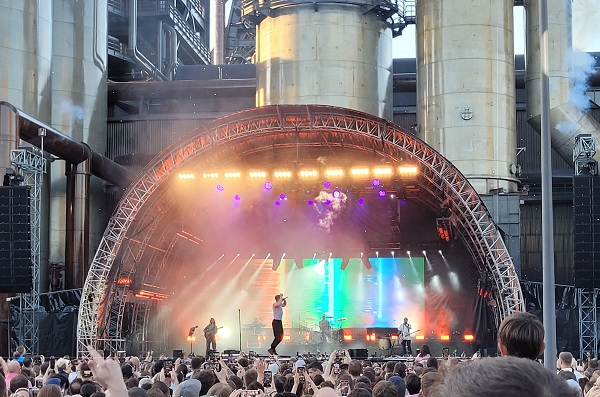 Credit: Jazmin Campbell
Imagine Dragons, a multi-platinum, Grammy Award winning pop rock band hailing from Las Vegas, took the stage in front of the blast furnaces of Esch-Belval on Thursday evening for their Open Air Belval concert.
The performance, which drew about 11,000 spectators, followed that of the Black Eyed Peas one day earlier – the first show in the Open Air Belval concert series organised by Rockhal in association with Esch2022 – European Capital of Culture.
Thursday's sold-out concert formed part of Imagine Dragons' 2022 Mercury World Tour, in celebration of the release of the band's fifth studio album, "Mercury – Act 1" (released on 3 September 2021). The tour kicked off in Miami (US) on 6 February and is set to conclude in Los Angeles (US) on 15 September 2022. On 11 March 2022, the band released a new single "Bones", the lead single to their upcoming sixth studio album, "Mercury – Act 2", which is scheduled for release on 1 July 2022.
Indie rockers Tuys (Luxembourg) and Mother Mother (Canada) were the support acts on Thursday evening.
The sun shone down on the several thousand spectators as Imagine Dragons took the stage. Eventually, day gave way to night and the blast furnaces were illuminated, adding to the festive atmosphere. This was paired with the use of multimedia on the screen behind the band, lights, fog and confetti.
Lead singer Dan Reynolds addressed the crowd, expressing his joy at being able to perform on stage after two years of COVID-19 restrictions. "I do not take this stage for granted", he said, adding that everyone had come together on this occasion to celebrate the power of music.
The set list included several songs from Mercury – Act I, including "Lonely", "Follow You" and "Enemy", as well as some of the band's older chart-topping hits such as "Thunder", "Demons", "Believer", "Whatever It Takes" and "Radioactive", among others.
There was general consensus among those present that the concert was excellent but too short – fervent calls for an encore went unanswered. There were also just a couple of food trucks on site, which resulted in very long queues and a limited choice of cuisine.
The next Open Air Belval concerts will feature the Orchestre Philharmonique du Luxembourg (OPL) and The Killers, on Sunday 19 June and Sunday 10 July 2022, respectively.