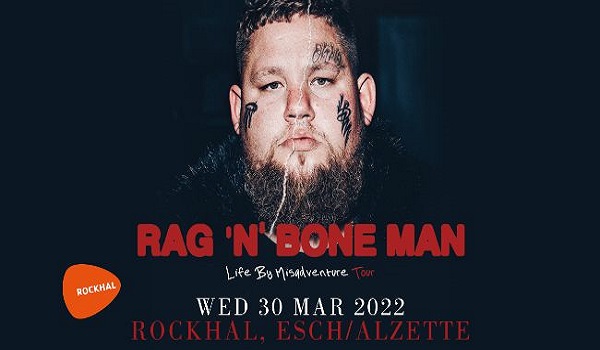 Rockhal has confirmed that two concerts postponed by the COVID-19 pandemic have been rescheduled for next year, with Rag'n'Bone Man taking place on 30 March 2022, and KALEO taking place on 23 January 2022.
Rag'n'Bone Man: 30 March 2022
Rag'n'Bone Man returns to the Rockhal with his highly anticipated sophomore album, Life by Misadventure. Firmly established as one of Britain's most successful artists of the past decade, Rag'n'Bone Man is now poised to assert himself as one of its authentic and original talents. Fans can expect an unmissable show from Rag'n'Bone Man, with the multi-Brit Award winner performing "Human", "Skin", "Giant", "Run" and the critically acclaimed "All You Ever Wanted" to name a few.
Tickets go on sale on Friday 25 June at 10:00 at www.rockhal.lu.

KALEO + Belle MT: 23 January 2022
Icelandic rock band KALEO return to the Rockhal with their new album Surface Sounds as well as their hit singles Way Down We Go, All The Pretty Girls and No Good. Known for their electrifying live performances, KALEO completely sold out their first U.S. headline tour and was a standout at Coachella, Lollapalooza and Bonnaroo and recently were hand-picked to open stadium dates for the Rolling Stones.
Tickets go on sale on Friday 25 June at 10:00 at www.rockhal.lu.