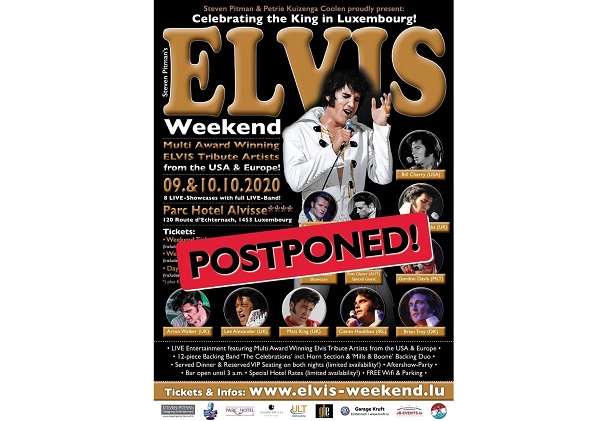 Luxembourg tribute artist Steven Pitman has announced the postponement of the 2nd annual Elvis Weekend, which was initially scheduled for 9 to 10 October 2020.
Organised by Steven Pitman through Designing Entertainment, Luxembourg's first Elvis Weekend took place last October. Building on this initial success, a second edition was planned for this year. However, Elvis Weekend 2020 has now been postponed until next year due to the ongoing COVID-19 pandemic.
Steven Pitman explained that "the general outlook is simply too uncertain", especially in light of travel and other restrictions, to be able to hold this second edition this year as planned. Instead, the event will take place on 8 and 9 October 2021 at the same location (Parc Hotel Alvisse in Luxembourg-Dommeldange).
Anyone interested in participating in next year's Elvis Weekend is invited to contact Steven Pitman via email: info@elvis.lu.
Regarding refunds, Steven Pitman has confirmed that he will contact and eventually refund everyone who purchased tickets for the 2020 edition. Those who booked a hotel themselves must cancel these themselves, whereas Mr Pitman will cancel any bookings made through him.
Last but not least, although the Elvis Weekend cannot go forth on a big scale as planned, Elvis' music will be celebrated in a special way on 10 October 2020: Ron Glaser and Chris Fillmore are coming to Luxembourg for the first time with their brand new and intimate show entitled "The other side of Elvis". To attend, email Steven Pitman at the address above. Limited seating is available. More details to follow.