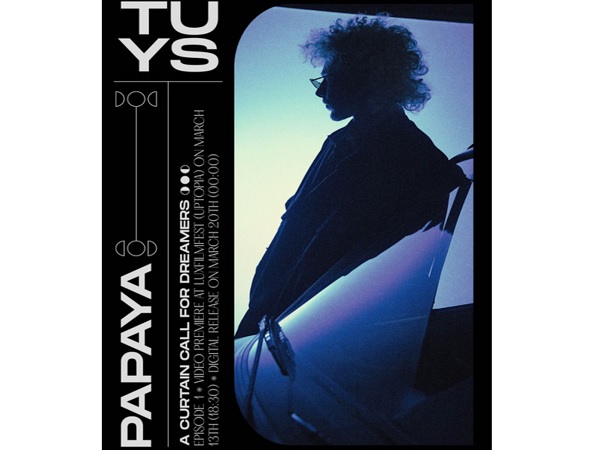 "Papaya" release artwork; Credit: TUYS
Luxembourg band TUYS has announced its latest musical endeavour "A Curtain Call for Dreamers" and the release of its first single "Papaya" scheduled for Friday 20 March 2020.
TUYS, dream pop boy band from Luxembourg, is set to present its new endeavour entitled "A Curtain Call For Dreamers": a series of eclectic tracks with interlinked videos. The songs will be released on the Berlin label "Revolver Records", which is also in charge of the German promo together with "Popup Records".
In "Papaya", the first of five episodes to be released on 20 March, Yann Larry takes the spectator on a ride through a fruity satire of macho flirts. The avant-premiere of "Papaya" will take place on 13 March at Ciné Utopia as a part of Rocklab's Video Clip Night during the Luxembourg City Film Festival (LuxFilmFest). The series' launch party will then take place on 30 April 2020 at Rotondes.
TUYS is composed of Sam Tritz (vocals and guitar), Tun Biever (vocals, guitar and keys), Yann Gengler (vocals and bass) and Kay Gianni (drums). The boys behind TUYS formed the band at the age of ten and quickly turned it into their dominant daydream. They are an odd boy band singing in three voices while loving driving synths and energetic psych-rock. Their songs are pervaded by distorted bass lines, entangling hooks and eccentric dynamics.
They have toured Europe, playing festivals including MS Dockville, Reeperbahn and The Great Escape, and have supported The 1975, Everything Everything, The Kooks, Mando Diao and Thirty Seconds To Mars.
The band's upcoming songs applaud those who dare to dream, those who taste all the forbidden fruits, recklessly indulge in love, risk suffering in pursuit of ecstasy - those who live and thus create art. They are a curtain call for all those adventurers. A curtain call for dreamers.