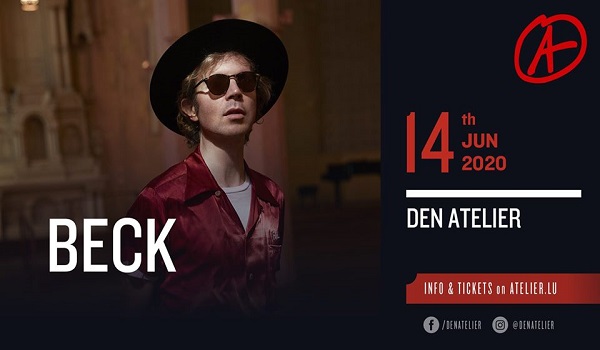 Beck; Credit: den Atelier
Den Atelier has announced that US singer-songwriter Beck and rock band Incubus will be performing in Luxembourg this June.
Beck Hansen, a singer-songwriter and record producer from LA, will play a concert on Sunday 14 June 2020 from 19:00 at den Atelier in Luxembourg-Hollerich. Tickets cost €51.50 and are now available from den Atelier's website at: https://www.atelier.lu/shows/beck-2/.
As the title of his brand new 14th album "Hyperspace" implies, seven-time Grammy-winner Beck has travelled light years from his emergence as a reluctant generational spokesperson when "Loser" exploded from a rejected 1992 demo into a ubiquitous 1994 smash. In the decades since, Beck's singular career has seen him utilise all manners and eras of music, blurring boundaries and blazing a path into the future while simultaneously foraging through the past. Surfacing just as alternative rock went mainstream, Beck quickly confounded expectations with subsequent releases including the lo-fi folk of "One Foot in the Grave". But the album that first cemented Beck's place in the pantheon was 1996's multi-platinum Best Alternative Grammy winner "Odelay". Touching on all of Beck's obsessions, Odelay remains a key cultural touchstone from the indelible hooks of "Devil's Haircut" and "The New Pollution" to the irresistible call and response of the Grammy-winning anthem "Where It's At."
Two days later, on Tuesday 16 June 2020, LA rock band Incubus will be performing at Luxexpo the Box in Luxembourg-Kirchberg (doors open at 19:00). Tickets cost €50.50 and can be purchased online at https://www.atelier.lu/shows/incubus-2/.
Since their formation in 1991, iconic multiplatinum rock band Incubus have consciously and continually shifted their perspective with each subsequent album, preserving the spirit that initially drove them and simultaneously challenging themselves as artists and human beings. Their eighth full-length, the aptly titled "8" (Island Records), proudly upholds that tradition for the quintet, composed of Brandon Boyd (vocals), Mike Einziger (guitar, piano, backing vocals), José Pasillas II (drums), Chris Kilmore (turntables, keyboards) and Ben Kenney (bass).