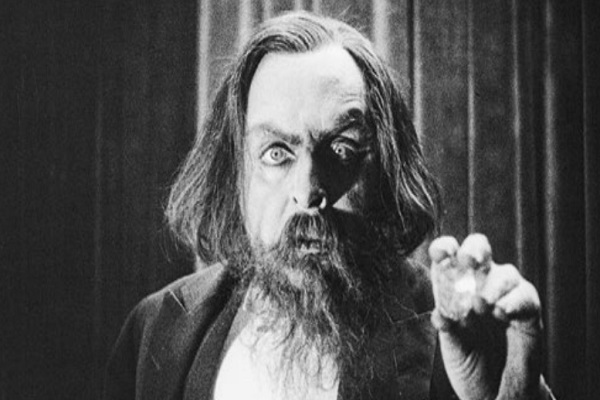 Credit: Cinémathèque/VdL
On Friday 26 April 2019, the Cinémathèque de la Ville de Luxembourg presented "Dr Mabuse: A Live and Spatial Experience", a psychedelic rock ciné-concert version of Fritz Lang's 1922 film.
Introducing this special screening was Noam Assayag, the narrator of the "Dr Mabuse: A Live and Spatial Experience" team - now in their third year on tour. Dressed in 1920s male attire, Noam Assayag described cinema as "the ultimate time machine" with the Dr Mabuse film transporting audiences back to 1922 Berlin, "a strange and paradoxical era" where the city itself is as much a character in the story as any other.
As the film screening began, guitarists Clément Hauvette and Gaëtan Boudy, accompanied by the team's spatialisation expert Jules Wysocki,similarly dressed in suits and top hats, offered the audience a truly "live and spatial experience". With the original film score being lost, these talented performers offered a psychedelic rock alternative with special lighting and musical effects, thanks to Jules Wysocki. The aim: completely immersing the audience in the world of Luxembourg writer Norbert Jacques' character of Dr Mabuse, the famous psychoanalyst-hypnotist who uses his talent to swindle the desperate souls of post-war Berlin.
But for the live musical accompaniment, the original film was completely silent, with German (and English) intertitles. And yet, as Noam Assayag pointed out, "silent movies are not silent, they never were. They talk". Indeed, Fritz Lang's film continues to offer audiences a rare historical and cinematographic insight into Germany in the "roaring 20s".
Whilst contemporary audiences had to wait one year for the second part of Dr Mabuse, the Cinémathèque presented a screening of the sequel just two days after this "live and spatial experience", on Sunday evening. This time, the film was accompanied by its original score in its original form.
The Cinémathèques live ciné-concerts will continue with a screening of "The City without Jews" featuring The Silent Movers on Tuesday 14 May 2019 at 20:30. Dr Nikolaus Wostry (Filmarchiv Austria) will introduce this film, the message of which unfortunately came to pass during the Second World War. Intertitles will be in English. Tickets cost €10 (full price) or €6 (reduced price and balcony seats) and are available at the box office on the night or at http://www.luxembourgticket.lu/.