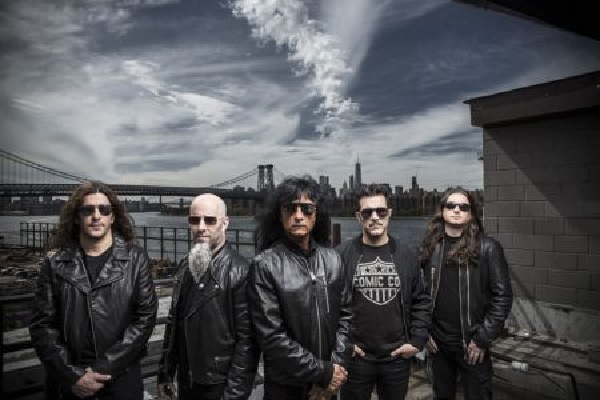 Anthrax;
The Rockhal will host concerts from US heavy metal bands Anthrax and Trivium and Australian rock band King Gizzard & the Lizard Wizard later this year.
On 18 June 2019, New Yorker thrash metal band Anthrax will return to the Rockhal with special guests Death Angel and Alien Weaponry. It is rare that a career gets a second shot, let alone a whole second act, but then Anthrax is not your average band. Formed in New York in 1981, the group that would go on to sell over ten million records and become the living embodiment of America's hi-top wearing, riff-spitting, ear-thrashing answer to the New Wave of British Heavy Metal has lived not one, but two complete eras.
Tickets cost €30 (plus pre-sale fee) and are on sale now at https://www.etix.com/ticket/p/2384704/anthrax-death-angel-alien-weaponry-eschalzette-rockhal-luxembourg.
Tickets are also on sale for the TRIVIUM concert, scheduled for 30 June 2019. Florida-based heavy metal band TRIVIUM catapulted into the first ranks of modern metal with 2004's Roadrunner debut, "Ascendancy", which was named "Album of the Year" by Kerrang! Then, in 2006, "The Crusade" incorporated new melodic colors into the band's sound, resulting in widespread critical applause and a top 25 Billboard 200 debut. "Shogun" followed two years later and received even greater acclaim and chart success, including a #1 debut on the UK's Rock Albums Chart. "In Waves hit #1 on Billboard's "Hard Rock Albums" upon its 2011 release before 2013's "Vengeance Falls" arrived at #2 on Billboard's "Hard Rock Albums" chart while making Top 10 debuts in Australia, Germany.
Tickets cost €27 (plus pre-sale fee) and are on sale now at https://www.etix.com/ticket/p/4638777/trivium-eschalzette-rockhal-luxembourg.
After their last appearance at 2014's Sonic Visions Festival, Australian based psy-rock band King Gizzard & The Lizard Wizard will be also making a comeback in the Rockhal, on 13 October 2019. For a band who released five albums in 2017, over 12-months 'off-grid' seems like an eternity, but today Melbourne's freewheeling 7-piece, King Gizzard & The Lizard Wizard, will return with Cyboogie, a stomping near seven minute electro-shuffle that filters all that's great about Gizzard through the Moroder-filter. Quiet though it was on the record front, 2018 saw the band in almost perpetual motion as their live show grew and grew. The band headlined last year's Green Man Festival, a massive sold-out US tour in the summer which saw them play their biggest venues to date. They also played two gigs in Russia and Istanbul in front of over 15,000 people.
Tickets will go on sale Friday 15 March 2019 at 11:00. For more information, see https://www.rockhal.lu/events-tickets/rock-pop/show/detail/king-gizzard-the-lizard-wizard/.
Doors will open for each show at 19:00 for a 19:30 start.