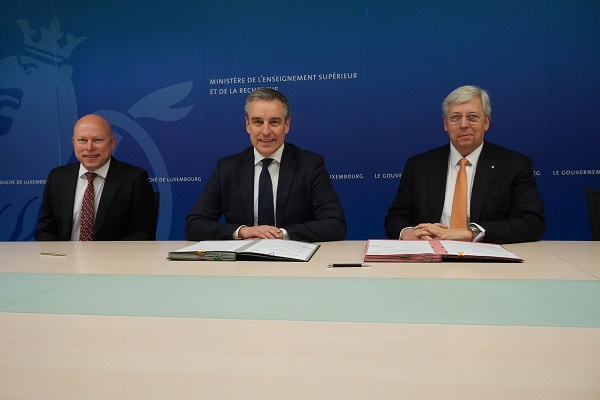 L-R: Stéphane Pallage, Rector of University of Luxembourg; Claude Meisch, Minister of Higher Education and Research; Yves Elsen, President of University of Luxembourg; Credit: MESR
The Luxembourg State has signed a series of multi-year agreements allocating a total of €1.7 billion to the University of Luxembourg, the National Research Fund (Fonds National de la Recherche - FNR) and public research institutes.

On Thursday 13 January 2022, Luxembourg's Minister of Higher Education and Research, Claude Meisch, and representatives of the University of Luxembourg, public research institutes the Luxembourg Institute of Health (LIH), the Luxembourg Institute of Science and Technology (LIST) and the Luxembourg Institute of Socio-Economic Research (LISER) as well as the FNR signed multi-year agreements between the State and the respective institutes.
Under these multi-annual agreements, which cover the years 2022 to 2025, total State allocations for the five institutions will amount to €1.7 billion, an increase of around 17.6% compared to to the 2018-2021 multi-year agreements.
These state grants will enable the University of Luxembourg and the three public research institutes to develop specific projects within the framework of multiannual programmes in fields such as digitalisation and data, sustainable development and energy, and medicine and health.
For the first time, these multiannual agreements provide for joint activities within the framework of four missions in the following areas: digital at the service of personalised medicine; fintech of the future; education, training and skills in the 21st century; climate and energy challenges.
Minister Meisch explained: "These missions are above all a collective commitment of public research to nurture and strengthen the economic and social development of the country. The concept of the missions is based on the triple helix model, i.e. reinforced collaborations between public research, higher education and the economic world and society in general".