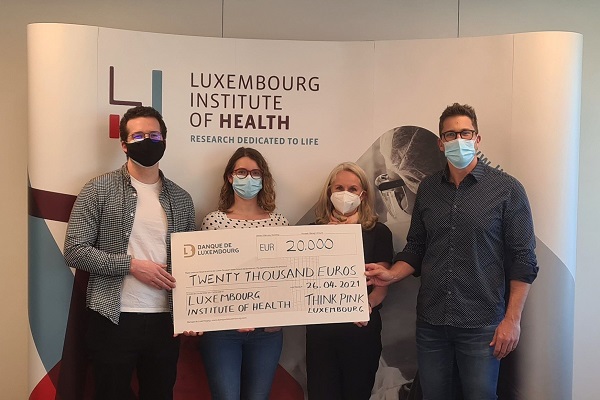 Credit: LIH
Think Pink Luxembourg has announced that it is granting its Marian Aldred Award to a PhD student at the Luxembourg Institute of Health (LIH).
Hannah Wurzer, a PhD student within the Cytoskeleton and Cancer Progression (CCP) group of the LIH Department of Oncology (DONC), led by Dr Clément Thomas, with a has been awarded a Marian Aldred Award of €20,000.
The grant will support the team's research on tumour immune escape mechanisms important in the use of immunotherapy in cancer. To find out more about this research, watch Hannah Wurzer's video below.
According to Think Pink Luxembourg: "The Marian Aldred award was instigated in 2012 following the untimely death due to ovarian cancer, of one of the committee's founding members, Marian Aldred. The Marian Aldred Award is a grant that currently supports young researchers working on the Invadoblaock project at the Luxembourg Institute of Health aimed at blocking breast cancer cell invasion and metastasis".
Think Pink Luxembourg thanked the public for its support with fundraising during the pandemic, which has led to many events being cancelled.