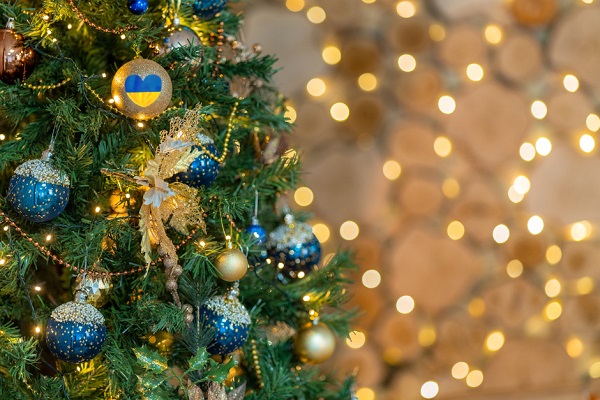 Whilst 6 January (the Feast of Epiphany) marks the end of the Christmas season for Western Christians, the celebrations are just getting started for many Orthodox Christians, including most Ukrainians.
In the context of Russia's war of aggression against Ukraine, on Thursday 5 January 2023, Russian President Vladimir Putin ordered a 36-hour ceasefire in Ukraine over Orthodox Christmas – a proposal which Ukrainian officials rejected as a tactical ploy. Indeed, many Orthodox Christians, including those living in Ukraine and Russia, celebrate Christmas on 6 and 7 January, according to the Julian calendar (unlike Western Christianity which follows the Gregorian calendar).
As Ilona Goncharenko, a local school teacher originally from Ukraine having lived in Luxembourg for several years, explained to Chronicle.lu, many people in Ukraine observe a 40-day fast ahead of Christmas. The fast is not the strictest but is deemed necessary to cleanse the soul and body before the festivities. During this Christmas fast, fruit and vegetables, cereals, legumes and mushrooms are allowed, as is fish on most days, but meat, eggs, cheese and other dairy products are not permitted.
On Christmas Eve ("Holy Evening"), Ukrainians traditionally sit down to enjoy twelve fasting dishes prepared in honour of the twelve apostles of Christ. Perhaps the most important Christmas dish in Ukraine is "kutya", a type of porridge/pudding prepared with rice or wheat and seasoned with dried fruit, poppy seeds, nuts and honey. Also on the menu (among other dishes): "borscht" (beet soup), fish dishes, mushrooms, dumplings filled with cabbage and beans, potatoes and "uzvar" (compote/winter punch).
It is customary in Ukraine to visit one's parents, grandparents and/or godparents on Christmas Eve. As Ilona explained, godchildren traditionally gift their godparents buns or pies on this special occasion.
Another important Ukrainian Christmas Eve tradition is carolling. From the evening of 6 January, Ukrainians traditionally go Christmas carolling whilst carrying a big star. Boys and girls prepare special songs and poems to honour the birth of Jesus Christ and go door to door, entertaining their neighbours in exchange for sweets and money. Adults also take part in this festive tradition. Turning away carollers is considered bad luck.
Whilst most Ukrainians still celebrate Christmas on 6 and 7 January, an increasing number of people are choosing to celebrate on 24 and 25 December either as well as or instead of the traditional dates. In addition to the traditional Christmas Day holiday on 7 January, 25 December has been an official public holiday in Ukraine since 2017.
Moreover, at the end of 2022, the Orthodox Church of Ukraine gave its congregations the choice for the first time to celebrate Christmas on 25 December (according to the Gregorian calendar). For some in Ukraine, this shift of Christmas observance is political in nature and can be considered a snub to Russia in the context of its invasion of Ukraine.
Ilona Goncharenko noted that after her move to Luxembourg, she had adapted to more Western Christmas traditions but was now reintroducing the cherished traditions of her homeland, many of which are a combination of old and newer traditions. She particularly enjoyed the non-commercialised, family-centred nature of a traditional Ukrainian Christmas, although specific customs vary depending on the region.