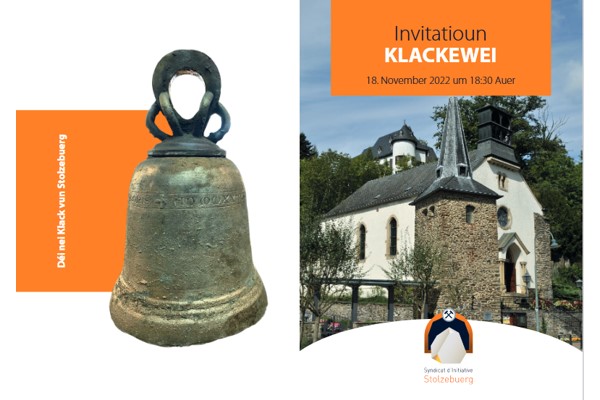 On Friday 18 November 2022, on the occasion of the day of Saint Odo, patron saint of the church of Stolzembourg, a new bell will be blessed at 18:30 by Bishop Léon Wagener, auxiliary bishop of Luxembourg, in the church of Stolzembourg, then mounted in the bell tower.
Between 20 June and 15 August 2022, a lost wax cast bell was made on site on the initiative of the "Syndicat d'Initiative Stolzebuerg". This method follows the instructions of the Benedictine monk Theophilus Presbyter dating from the 12th century. All the stages of the manufacture of such a bell were explained in detail to the many visitors. Dr Bastian Asmus, a trained art foundryman and founder of the archaeometallurgy laboratory in Kenzingen, Germany, spent six weeks in Stolzembourg making the bell.
The whole process did not go without problems: the casting of the bell, scheduled for 14 August 2022, had to be postponed for two days, since the required temperature of 1,100 degrees in the furnace was not reached. And the second try didn't go quite as planned either: the casting went perfectly until the hopper was completely filled. At this time, the metal began to settle again. It was clear that the mold had a leak in some place. After the bell jar was released from the mold, the location of the leak was not immediately clear. Finally, it was a small leak of about 3-4 mm, along the leaf suspension.
The entire bell body had been cast without damage, but the bell was missing a crown. A situation which incidentally also happened to the founders of the Middle Ages, since there are some bells from this period which have a crown added later.
The "Syndicat d'Initiative Stolzebuerg" has decided to go all the way and provide its own bell with a new crown, as in the Middle Ages, so that the bell made in Stolzembourg can also be hung in Stolzembourg.
In the workshop of D. Bastian Asmus in Kenzingen, a new crown was cast and then welded to the body of the bell.
Anyone interested to join the event of the blessing of the bell on Friday can register via tel.: 621 380 358 or via email: fzanter@pt.lu.
The photos of the project in Stolzembourg are available online via: https://www.stolzembourg.lu/actualites/actualites/production-d-une-cloche-de-ruche/.