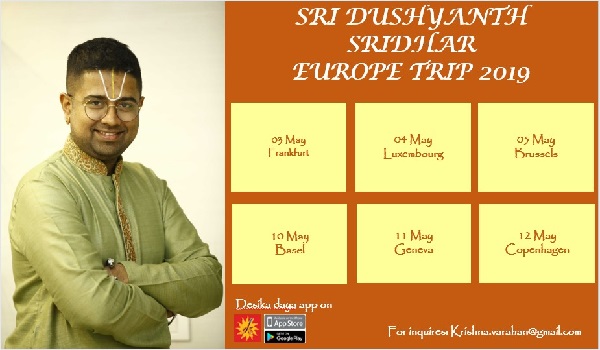 The Hindu Forum Luxembourg (HFL) has announced a lecture by Sri Dushyanth Sridhar on "Hanuman - the unswerving devotee", taking place on Saturday 4 May 2019 at the HFL Center (219 Rue De Beggen, L-1221 Luxembourg-Beggen), from 18:00 - 20:30.
The lecture, given in English, forms part of public speaker and writer Sri Dushyanth Sridhar's Europe tour, which will also take him to Frankfurt, Brussels, Basel, Geneva and Copenhagen. His expertise lie with topics related to Sanatana Dharma.
The Luxembourg session will focus on Hanuman, an passionate devotee of Rama (a major deity of Hinduism). Sri Dushyanth Sridhar is known for his style of using modern day examples and stories to explain the concepts of Sanathana Dharma to his audiences. He has given over 3,000 lectures, in English and Tamil, in fourteen countries outside of India.
Admission is free but voluntary contributions are welcome.