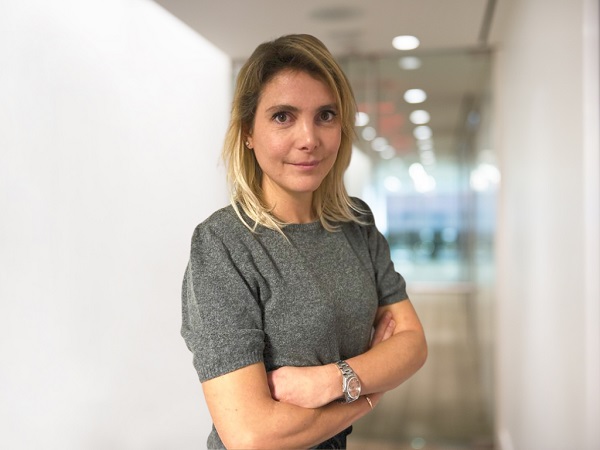 Carolyn Prestat, CEO of Fiveoffices; Credit: Fiveoffices
Chronicle.lu recently had the opportunity to speak with Carolyn Prestat, CEO of Fiveoffices, to learn about the Luxembourg-based office rental platform and its mission to fill empty offices.
Fiveoffices was founded in Luxembourg in 2022 with the goal of eliminating vacant office space by connecting hosts with available offices to guests seeking to rent a flexible workspace. Carolyn Prestat had previously served as Chief Operations Officer at Fiveoffices before assuming the role of CEO in February 2023.
Chronicle.lu: Please tell us about the origins of Fiveoffices. What sparked the idea behind it?
Carolyn Prestat: The co-founders, Robert Glaesener and Daniel Schneider made a simple observation: since the COVID-19 crisis and the deep changes in the working habits, companies have reorganised their staff around working from home and flex offices. The demand for greater flexibility has significantly increased, whether from staff or the employer. As a result, commercial vacancy has become an issue in the big cities, everywhere. Surprisingly, at the same time it has never been as difficult as it is today for an entrepreneur to find an office, precisely because of this increased demand for flexibility that the traditional leases do not address. This is how and why Fiveoffices started. Fiveoffices easily connects entrepreneurs with vacant offices with entrepreneurs looking for full- or part-time office space, so that they can efficiently share their office space. From searching to connecting, everything is done very simply and quickly via our platform.
Chronicle.lu: How has Fiveoffices grown and developed/expanded its service offer since its launch? We understand that you have already expanded to Paris and more recently closed a €3.2 million fundraising round...?
Carolyn Prestat: Our ambition is to become a reflex for entrepreneurs with available office space or looking for an office on flexible terms. This round of financing will enable us to intensify our development in Luxembourg and Paris and to begin our international roll-out, with new launches in the second half of 2023.
Chronicle.lu: What changes have you observed on the Luxembourg market since starting out?
Carolyn Prestat: Since our launch in July last year, the trend of satellite offices allowing border residents to have offices closer to the border has accelerated. Teleworking has stabilised at around one to two days per week, depending on legal possibilities. The market remains tight, with Luxembourg centre and Belval being the most sought-after areas, with unfortunately little available supply.
Chronicle.lu: What has been the response of entrepreneurs with unused office space on the one hand and those looking for flexible office rental solutions on the other hand?
Carolyn Prestat: No entrepreneur gives up on saving on fixed costs, especially when it comes to office rent, especially in times of crisis. Whether it is for our clients who offer space or for those who are looking for it, the more accessible price and flexibility are the two criteria that make them choose Fiveoffices. Sharing office space is an economic and ecological necessity. It is also- and we have learned this from our clients- a human experience.
Chronicle.lu: And how does this "matchmaking" process work?
Carolyn Prestat: Sharing an office means sharing the majority of your time with another team. We realised that as much as price and location, the human factor was an important choice criterion for our clients. We have worked to ensure that the platform responds to this demand to know more about the people behind the company that will come to share their offices: who they are, what their values are, what their habits and working hours are. Fiveoffices is also an opportunity to share much more than a workspace, it's a sharing of skills, experience, good tips and good afterwork moments.
Chronicle.lu: What have been the highlights/biggest achievements (and challenges) so far?
Carolyn Prestat: Launched in Luxembourg in July 2022 and in Paris last October, Fiveoffices already has more than 500 ads online on the platform, for 45,000 m2 of office space available for rent, representing 6,000 workstations. The average surface area currently offered for rent is 90 m2. The team grew quickly at the same time, with 25 employees on board.
Chronicle.lu: Why is it useful/important to reduce empty office space, particularly in Luxembourg, in your opinion?
Carolyn Prestat: Empty offices are an aberration! Why continue to build so much when we know that the average occupancy rate of offices is less than 50% in most European cities? Just think: 54% of Parisian offices are occupied, 32% in London… This is nonsense. Fiveoffices' mission is to fight this waste.
Chronicle.lu: And finally, where do you (hope to) see Fiveoffices three or so years from now (in terms of expansion, etc.)?
Carolyn Prestat: We are convinced that the sharing economy is one of the key solutions for the success of today's and tomorrow's businesses, but also one of the solutions to the ecological challenges we have to face. Our goal within the next three years is to expand Fiveoffices in the main European capitals and cities, and then in North America. Our ambition is to democratise office sharing and to become a matter of course for all entrepreneurs.