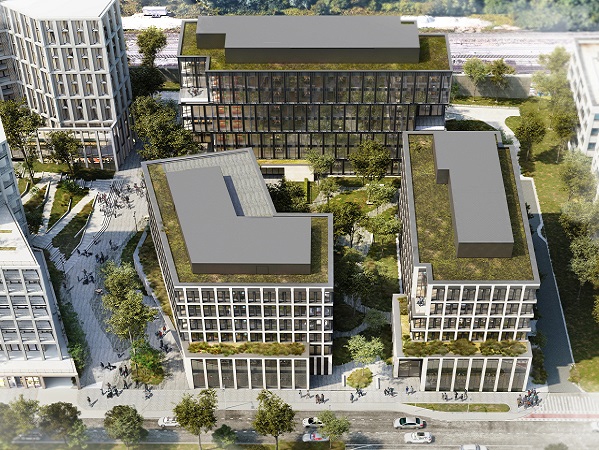 Credit: Beiler François Fritsch
Luxembourg real estate player INOWAI has announced the acquisition by Monceau International of "The Corner" office building in the AXS project in Howald.
The old craft and commercial area in Luxembourg-Howald is gradually giving way to a completely redesigned, multifunctional district. The new buildings are beginning to take their place in this new urban landscape, soon to be served by the new tram line.
In this context, Monceau International has just acquired, with the help of the Capital Markets team of INOWAI Luxembourg, "The Corner", an office building integrated into the AXS Howald project of Belgian investor and developer Baltisse.
"Monceau Assurances was once again extremely visionary by taking this position very early on in Howald, a highly strategic location in terms of mobility and with strong growth potential", commented Tehdi Babigeon, Partner – COO & Head of Capital Markets at INOWAI, the real estate expert who carried out the transaction.
Created by the Beiler François Fritsch architecture office, AXS Howald forms a complete mixed real estate complex of more than 42,500 m², spread over three blocks and five buildings. In this ambitious project, "The Corner" is one of three office buildings developed by Baltisse.
Composed of seven floors, the building "The Corner" develops 6,862 m² and will be a high-end office building, benefiting from the BREEAM Excellent certification to meet environmental challenges.
Guy Degryse, Country Director Real Estate of BALTISSE, specified: "We are delighted with this collaboration with Monceau Assurances and will soon be able to announce that a second building has already found a buyer even though delivery will only take place between 2024 and 2025. This is further proof of the interest of occupants and investors in high-performance, flexible products with an expressive architecture within a project enjoying a location that ticks all the boxes".
With this acquisition, Monceau Assurances is thus establishing itself as a major player in the renewal of the Howald district and strengthening its investment strategy. "The Corner" completes the company's portfolio in Luxembourg, which already includes the buildings "Nova", located in Place de l'Etoile, "Quatuor", located in Cloche d'Or, and "The Curve", located on Route d'Arlon, for which INOWAI had already provided its advice, as well as three mansions and two buildings under construction: "The Ultimate Building" and "Prince".