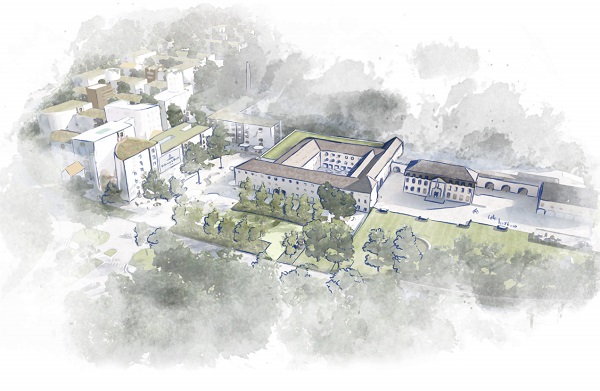 Faïencerie; Credit: ICN Development
The ICN Development, TRALUX immobilier and BESIX RED consortium has announced its acquisition of the Villeroy & Boch site in Luxembourg.
On Friday 3 December 2019, the ICN Development, TRALUX immobilier and BESIX RED group of promoters signed the acquisition of the land (transfer of property through sale of shares of Rollingergrund Premium Properties) on which Factory 1 of Villeroy & Boch was located, in Rollingergrund in Luxembourg. The City of Luxembourg had acquired Factory 2 in 2016.
This site of nearly 46,000 m2 of buildable area will now be called "Faïencerie". ICN Managing Director, Nik Coenegrachts, explained: "Faïencerie will evolve to become a vibrant and dynamic neighbourhood. Everything will be done to make sure the residents of Faïencerie feel at home there".
"With this in mind, the project will be designed to offer a new living experience to its inhabitants which contributes to their well-being," added Gabriel Uzgen, Managing Director of BESIX RED.
The ICN Development, TRALUX Immobilier and BESIX RED partners have already established their expertise on Luxembourg territory with projects such as "Parc Rischard" (10,395 residential m² developed by ICN-TRALUX), "Altitude" (set of administrative offices developed by TRALUX Immobilier) or the new international Ferrero headquarters, near the airport (29,500 m² of offices developed by BESIX RED).
The historic building nicknamed "Le Carré", a legacy of Villeroy & Boch, will be preserved and developed, to form the anchor point of the district and to house shops, conference rooms, restaurants and cafes. Aimed at offering a meeting place, this area will form the link between the residential project and the Château de Septfontaines, dating from the 18th century and which remains the property of Villeroy & Boch.
ICN, together with the City of Luxembourg Services, plans to introduce the new special development plan (PAP) which will launch the development phase of Faïencerie at the beginning of 2020. Development of this mix of residential, office and commercial spaces (46,000 m² gross buildable area) is set to be carried out in six phases.