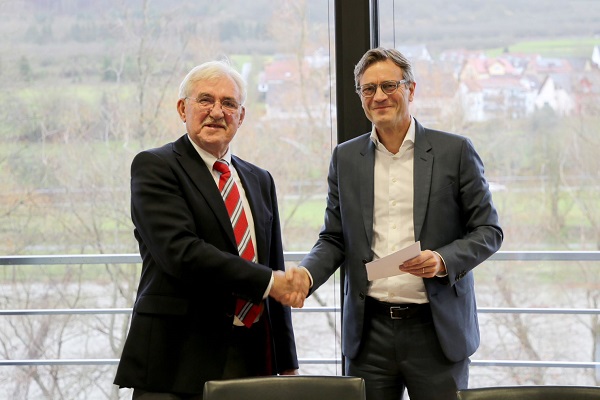 L-R: Jan Löwenguth, Manuport; Marc Wengler, Managing Director of CFL Group; Credit: CFL
Luxembourg's national railway company, the CFL, has announced that it recently acquired a stake in the Luxport Group.
With this acquisition, as of 1 January 2023, the CFL Group is hoping to strengthen its freight activities, which already include rail and logistics activities, and now aims to diversify through complementary infrastructures and activities, such as river transport or bulk product logistics.
This structural cooperation aims to promote the synergy between the freight services offered by the two groups by strengthening the trimodal rail/road/waterway offer to/from the major European seaports and by jointly developing an intermodal service for shippers, benefiting from the road transport activities of Lorang SA, a subsidiary of Luxport, and from the intermodal rail activities of CFL intermodal, a subsidiary of CFL multimodal, as well as from leveraging the utilisation of the complementary sites of Mertert and Bettembourg-Dudelange.
Marc Wengler, Managing Director of CFL Group, stated: "We remain steadfast in our objective to develop Luxembourg as a European multimodal hub. The structural cooperation between the CFL Group and Luxport Group will surely enable us to better direct future strategic reflections and investments concerning the development of the multimodal activities in Luxembourg and to further strengthen our competitive positions as a Luxembourgish multimodal hub in Europe."