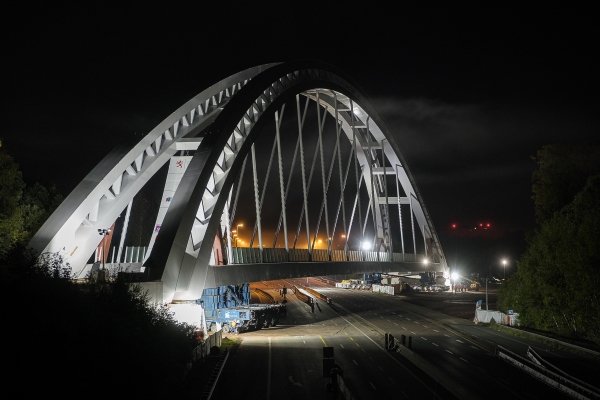 Credit: CFL
Luxembourg's railways, the CFL, have announced that they installed a civil engineering structure above the A3 motorway over the weekend as part of the construction of the new Luxembourg - Bettembourg railway line.
On the night of Friday 7 October 2022, the engineering structure OA14, a 5,850 tonne "bow-string" type railway bridge (without concrete deck) and one of the largest of this type in Europe, was moved above the A3 motorway. This bridge is part of a total of eight structures built along the route of the new Luxembourg – Bettembourg railway line.
Luxembourg's Deputy Prime Minister and the Minister of Mobility and Public Works, François Bausch, was present during the shifting event. Several weeks in advance, 30 specialised hydraulic machines had lifted the metal structure of the bridge from its temporary supports to a height of five metres above the ground. It took nine days to raise the bridge by about 30 centimetres per day. Thanks to these so-called KAMAGs and COMETTOs (hydraulic machines) equipped with wheels, the metal structure of the bridge composed of two tie rods (22 welded boxes), four arches (eighteen lower elements and eighteen upper elements), ten spacers connecting the two arches lower as well as 24 hangers, was able to be moved across the A3 motorway to then be turned in its planned axis and finally reach the final supports of the bridge.
To be able to lift and move the impressive weight of the bridge, each individual hydraulic machine has 24 tires, spread over six axles. Each of these tires is designed to support a load of up to 12 tonnes, having thus made it possible to move the 5,850 tonne steel colossus in less than two hours, an exercise that was possible due to the careful preparation by the CFL and by more than 25 companies involved in this project, which began in October 2019.
Next steps
After shifting the structure, the final supports will be concreted in order to merge the metal structure of the bridge with the concrete abutments at its eight supports. The reinforcement and concreting of the deck will then follow, which will serve as the basis for the installation of the two future railway lines which will span the A3 motorway. At the same time, the bridge's pre-assembly platform will be folded up to level and restored again.
New Luxembourg - Bettembourg line
The construction of structure OA14 is part of the construction work for the new Luxembourg – Bettembourg railway line. As an essential element of the State's substantial investment programme in rail infrastructure, the new line project, co-financed by the European Union, will make it possible to double the capacity on this section frequented by both travelers from the Lorraine furrow and from the Luxembourg – Esch/Alzette axis – Pétange (Line 60).