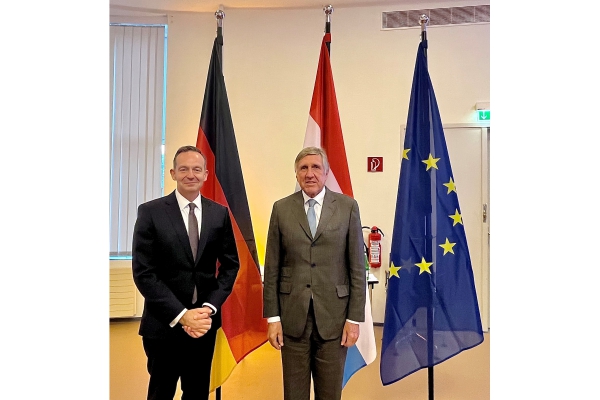 (L-R) Volker Wissing, Federal Minister of Transport and Digital Affairs; François Bausch, Deputy Prime Minister, Minister of Mobility and Public Works; Credit: MMTP
On Tuesday 20 and Wednesday 21 September 2022, Luxembourg's Deputy Prime Minister and Minister of Mobility and Public Works, François Bausch, paid a working visit to Berlin, Germany.
Minister Bausch participated in the leading international exhibition for transport engineering InnoTrans, which took place in Berlin. On Tuesday, Minister Bausch attended the "Rail Leader's Summit" congress under the theme "Pioneer of transport - rail makes the future" (Vorreiter des Verkehrs – Schiene macht Zukunft). Among other things, the congress enabled trade visitors and experts to understand the importance of innovation, digitilisation and emission-free technologies in the rail sector to address climate issues and above all to meet the needs of travellers.
In order to promote the attractive diversity of professions in the rail sector, Minister Bausch was invited as a speaker at the conference "Rail jobs in person – career ambassadors in conversation" (Schienenjobs in Person – Berufsbotschafter/innen im Gespräch).
As part of his working visit to Berlin, Minister Bausch had the opportunity to conduct a bilateral meeting with his German counterpart, Volker Wissing, Federal Minister for Digital and Transport. The working meeting was an opportunity to exchange views on rail relations between Luxembourg and Germany and on the current and future offer in terms of passenger and goods transport. The discussions thus made it possible to reconfirm the need for investments in the rail sector for the extension of the rail network to meet environmental, economic and social challenges. The two ministers emphasised that digital transformation is a necessary step in the rail sector with the aim of improving the quality of services and increasing the offer offered to passengers. Likewise, the modernisation of the rail network also including stations, the deployment of the European Train Control System (ECTS) and Digital Automatic Coupling (DAC) as a lever for digitilisation and increased performance in the freight sector, are other topics that were discussed during the meeting. One of the main subjects on the agenda concerned the rail dossier for future offers between Paris and Berlin via Saarbrücken and Strasbourg.
During a work meeting on Wednesday, Minister Bausch also met with Richard Lutz, Chairman of the Board and CEO of Deutsche Bahn AG, for a two-way discussion on the need for an increase in long term offer. Deutsche Bahn AG will take into account the needs of Luxembourg and will study the possibilities of connecting the TGV-ICE Paris-Berlin either via Saarbrücken or Strasbourg, considering that Saarbrücken represents an important connection point for Luxembourg to Germany. Similarly, the two players have agreed to discuss more intensively the possibility of increasing the offer to Cologne via Trier while considering alternative routes in the medium term, with more optimal journey times than today.