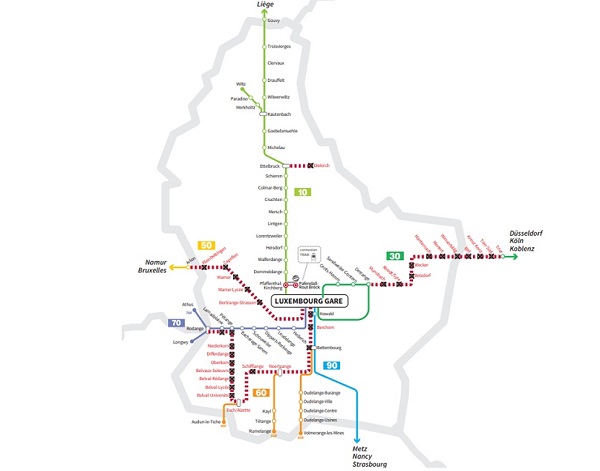 Credit: CFL
Luxembourg's railways, the CFL, has announced that lines 10, 30, 50, 60, 70 and 60/90 will be temporarily closed at various times during October and November.
The temporary closures are to allow maintenance, modernisation and extension of the rail network throughout the Grand Duchy. To reduce the impact on passenger, the CFL organises such works to take place during periods when passenger numbers are traditionally lower, such as school holidays, weekends and even at night.
The following rail sections will be closed during the All Saints holidays from Saturday 31 October to Sunday 8 November 2020 inclusive:
- Line 10 (Luxembourg – Troisvierges) between Ettelbruck and Diekirch;
- Line 30 (Luxembourg – Wasserbillig – Trier) between Oetrange and Trier;
- Line 50 (Luxembourg – Kleinbettingen – Arlon) between Luxembourg and Arlon;
- Line 60 (Luxembourg – Esch-sur-Alzette ‒ Pétange) between Esch-sur-Alzette and Rodange.