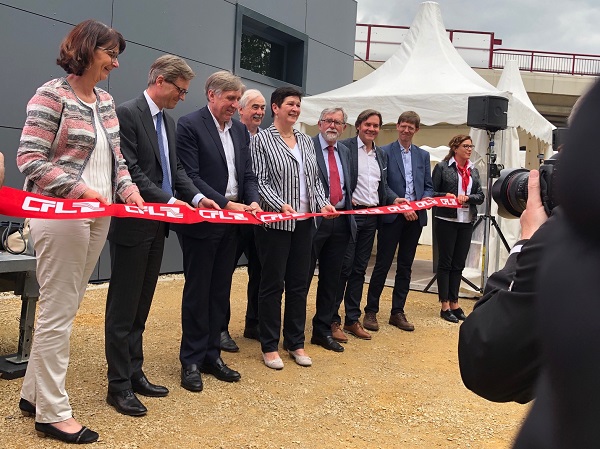 CFL Inauguration of new Luxembourg - Sandweiler - Contern railway section;
On Tuesday 11 June 2019, the CFL Group inaugurated the Luxembourg-Sandweiler-Contern double track in the presence of François Bausch, Luembourg's Minister of Mobility and Public Works.
The guests of honour were welcomed at Luxembourg-Gare and a special train took them along the new section from Luxembourg-Sandweiler-Contern. During this trip, the guests were able to see the various structures necessary for installing the double track along this section, including the Sandweiler-Contern junction, the new second Pulvermühle viaduct, the Luxembourg-Sandweiler-Contern double-lane crossing, the new road crossing at Cents and the two crossings at Cents-Hamm and Sandweiler-Contern.
This transformation is evident from the challenges it faces: the exponential growth in the number of passengers, the star-shaped rail network, operated as a mixed passenger / freight network, and the growing cross-border traffic. Thus, a significant number of measures are being taken and many large-scale projects are in progress, some being carried out in a very short time period. With this in mind, the works on the Luxembourg-Sandweiler-Contern section is a key measure that improves the flow of rail traffic and contributes to the robustness of the schedule.
With the construction of these new infrastructures, the CFL aims to increase the capacity on the line towards Luxembourg - Wasserbillig - Trier (line 30), as well as on the northern line (Luxembourg - Ettelbruck - Troisvierges, line 10).