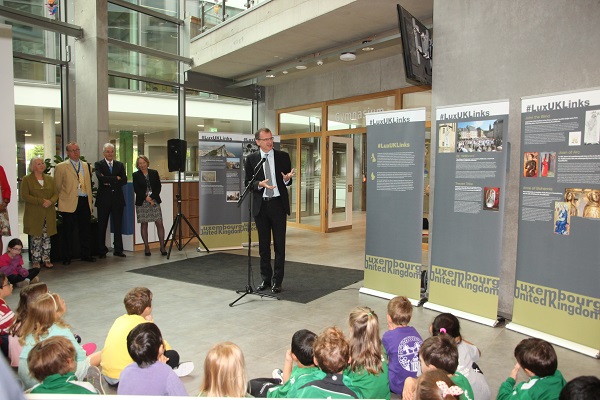 British Ambassador to Luxembourg, John Marshall;
On Monday 11 September, the British Ambassador to Luxembourg, John Marshall, visited the International School of Luxembourg (ISL) to inaugurate the #LuxUKLinks Exhibition.
The exhibition, which initially started as a series of tweets by Ambassador Marshall, consists of 23 banners detailing fascinating facts about the links between Luxembourg and the United Kingdom.

Ambassador John Marshall highlighted interesting historical truth, such as that Grand Duke Henri is Queen Elizabeth II's third cousin. He shared how the #LuxUKLinks project grew from a Twitter initiative to an exhibition, and that the next step will be the launch of a book. The British Ambassador passionately encouraged the students to discover all facets of Luxembourg.
In addition, Mrs. Wagener-Frantz, ISL's teacher for "Integration of Luxembourgish Culture", launched the "Lëtz Kool Tour", a programme in the Lower School to introduce the students to Luxembourgish culture and learn basic Luxembourgish language. A similar course called "Culture and Connections" will run for the first time at the Middle School.