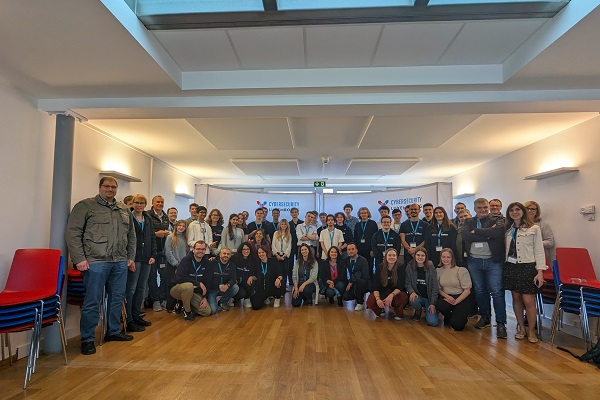 Credit: LTS
From Friday 21 to Sunday 23 April 2023, 21 Luxembourg Tech School (LTS) students joined forces to build safe and secure financial applications during a "Cyber + FinTech Hackathon" at the Luxembourg House of Cybersecurity in Luxembourg-Gare.
To address the challenge of ensuring the safety and security of financial technology (fintech) used for everyday transactions, a group of LTS' Level Up, Level One and Alumni students came together with the goal of creating innovative and secure financial applications.
After one day of hacking, the students had the opportunity to meet with experienced mentors from the finance, technology and cybersecurity industries who helped them to crystallise and finalise their ideas.
On the final day, the students presented their ideas to a jury, composed of Petra Krizan, Managing Director at The Blockhouse Technology, Pascal Steichen, CEO of the LHC, Charalampia Lagou, Co-Managing Director of Girls In Tech Luxembourg, and Nasir Zubairi, CEO of the Luxembourg House of Financial Technology (LHoFT), who evaluated the projects based on their innovation, implementation and presentation.
After much deliberation, the jury announced the top three winners as follows:
1. Pescathorian
2. SafeSignify
3. PassPouch
The Cyber + FinTech Hackathon was sponsored by Fondation ABBL pour l'éducation Financière and received support from the LHoFT and the Luxembourg House of Cybersecurity.
LTS is an extracurricular educational programme for twelve- to eighteen-year-old students, aimed at supporting the development of future "digital leaders".