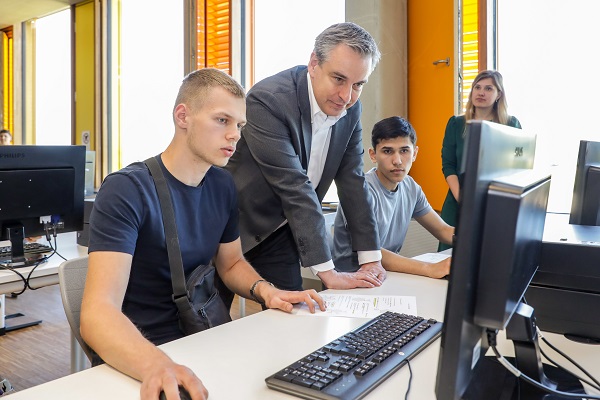 L-R: Ukrainian pupil; Claude Meisch, Luxembourg's Minister of Education, Children and Youth; Ukrainian pupil; Ms Sham, reception class teacher; Credit: MENEJ / Luc Deflorenne
Luxembourg's Ministry of Education, Children and Youth has confirmed that more than 800 Ukrainian pupils are currently enrolled in public international schools in the Grand Duchy.
On Tuesday 14 June 2022, Luxembourg's Minister of Education, Children and Youth, Claude Meisch, visited classes of Ukrainian pupils attending Lënster Lycée International School in Junglinster.
The Education Ministry noted that it has made significant efforts to cope with the number of newcomers and has proposed a schooling offer adapted to the diversity of profiles of Ukrainian pupils.
Since the beginning of the war in Ukraine, Luxembourg schools have taken in 1,273 Ukrainian pupils, including more than 800 in public international schools, which are mainly in charge of organising the educational offer for Ukrainian refugee children and young people. New primary and secondary education classes were opened in the six international schools and in other school buildings in the region:
A total of 112 Ukrainian pupils (58 aged 6-11; 54 aged 12 and over) are enrolled at International School of Differdange and Esch-sur-Alzette (EIDE);
138 Ukrainian pupils (78 aged 6-11; 60 aged 12 and over) currently attend École Internationale Mersch Anne Beffort (EIMAB);
45 Ukrainian pupils (25 aged 6-11; 20 aged 12 and over) are enrolled at École Internationale de Mondorf-les-Bains (EIMLB);
49 adult students from Ukraine are attending the National School for Adults (ENAD);
37 Ukrainian pupils (sixteen aged 6-11; 21 aged 12 and over) are pursuing their education at Lycée Edward Steichen in Clervaux;
159 Ukrainian pupils (82 aged 6-11; 77 aged 12 and over) are enrolled at Lënster Lycée International School;
271 Ukrainian pupils (129 aged 6-11; 142 aged 12 and over) are attending Lycée Michel Lucius;
One Ukrainian pupil (aged 12 and over) is enrolled at Lycée Privé Emile Metz.
To date, 812 pupils are being educated in English language reception classes, opened specifically for Ukrainian pupils. The choice of English was imposed because Ukrainian pupils learn this language from their third year of studies. When the children are ready, they can join a regular international class. Depending on the age of the pupils and as the learning progresses, a second language will be added, either German or French. In exceptional cases, pupils whose level allows it may directly join a regular international class. To this end, additional places have been created in the existing classrooms of international schools.
Depending on needs and demand, Ukrainian children are also being educated in primary schools in Luxembourg. These children follow reception courses in German or French. So far, 461 children are enrolled in these courses.
Moreover, young people having completed their last year of secondary school in Ukraine will be able to participate in an online test in August or September this year organised by the Ukrainian Ministry of Education, enabling them to access Ukrainian university studies. Luxembourg's Ministry of Education, Children and Youth will take care of the logistics of preparing for and taking the test (e.g. providing rooms, computers and supervision) on the premises of Lycée Michel Lucius. The test will cover the Ukrainian language, mathematics and the history of Ukraine.
Young people who have completed their secondary school studies in Ukraine can also undertake a diploma for access to higher education (DAES) in English at the National School for Adults, which offers them access to European higher education. 49 students are currently enrolled in this programme.
In addition, the Institut National des Langues (INL) is organising reinforced and intensive courses in English and French during the summer for young people enrolled at the University of Luxembourg.
According to the Education Ministry, extracurricular activities during holiday periods are particularly important for the practice of languages ​​and social contacts of Ukrainian pupils. In primary education, the education and reception services of the municipalities as well as international schools will take in Ukrainian children during the school holidays. For secondary school pupils, the Department for the Schooling of Foreign Children (SECAM) will organise activities combining sport, art and English language at Lycée Michel Lucius.
Accommodation structures for refugees can enrol groups of young people in daytime activities organised by the National Youth Service (SNJ), such as at the Marienthal youth centre.
The youth centres and services for young people, in close contact with the accommodation structures in their region, will offer various activities during the summer holidays and will be able to accommodate young Ukrainians.
Other organisations such as the scouts have been organising activities for children and young people from Ukraine since their arrival in Luxembourg.