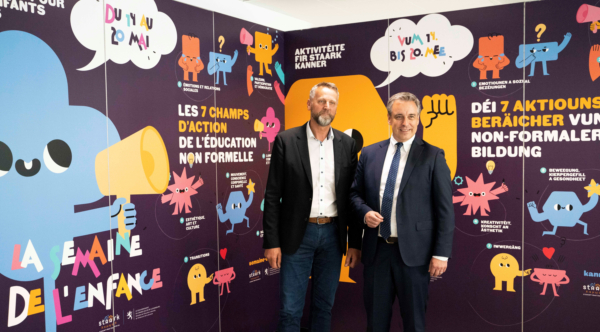 (L-R) Gérard Albers, Vice-President of FEDAS Luxembourg; Claude Meisch, Minister of National Education, Children and Youth; Credit: MENJE
On Tuesday 10 May 2022, Luxembourg's Minister of National Education, Childhood and Youth, Claude Meisch, alongside the Vice-President of the Federation of Social Sector Actors in Luxembourg ASBL (FEDAS Luxembourg), Gérard Albers, announced the recent developments in the quality and access to non-formal education.
The future chances of children and young people depend on the quality of the educational offer and this does not only concern schools. All international studies show that this principle is equally valid for out-of-school education.
Non-formal education plays an essential role in the overall development of the child and for his chances of success. Non-formal education aims to develop the essential skills of children and young people: their language and motor development, their social competence, their creativity and their technical skills, their ability to get involved in participatory processes.
The goal of non-formal education is to empower children and young people.
Minister Claude Meisch said on this subject: "Every child in Luxembourg has the right to a quality education. This is how we can provide fair opportunities for everyone. At school, this has been the case for a long time. The same must now apply to non-formal education, which also contributes decisively to the development of children and young people. School is free and free access to non-formal education must be ensured in the same way".
The vice-president of FEDAS, Gérard Albers, noted that "7,800 professionals are at work daily in the non-formal education sector. This is a still young but very dynamic sector which, with the law of 2016, received a clear educational mission and a quality framework. Thanks to the continuous staff training system and close collaboration with parents, the non-formal education sector is a full partner in the Luxembourg educational landscape."
A national reference framework for the quality of non-formal education in Luxembourg
The 2016 law introduced a National Reference Framework for non-formal education for children and young people in all crèches, relay houses and youth centres. The notion of reception has finally been supplemented by the notion of education. Since then, non-formal education has a legal framework and well-defined quality criteria around seven areas essential to child development.
The quality system, which has just been updated, allows monitoring of the implementation of quality in the field, ensured by the regional agents of the National Youth Service, in close contact with the education and training structures.
Investment in the quality of structures is also reflected in the introduction of an expanded offer of continuing education and free training for educational staff.
Non-formal education accessible to all children
Five years ago, the main motivation for providing each child with 20 hours of free supervision per week at the crèche was to open access to these structures so that each child could benefit from them, regardless of their parents' income.
In the continuity of this measure, reception in non-formal education structures will be made free during school weeks from September 2022 for children enrolled in primary education (from compulsory education). Free admission concerns "Maisons Relais" (childminding services), "Foyers scolaires" (after-school childcare) and parental assistants.
A further step towards equal opportunities will be taken with the introduction of free lunches from the start of the 2022-2023 school year. Thus, in the context of compulsory schooling, each child will be entitled to a quality meal during school weeks, regardless of the parents' income.
Non-formal education opens its doors to the public during Children's Week, 14-20 May
The Ministry of National Education, Children and Youth is launching the Children's Week (Kannerwoch) initiative for the first time: for one week non-formal education structures open their doors and show the public what they have to offer children.
The week unfolds on several levels.
The Kannerwoch in Neumünster on the weekend of 14 and 15 May invites parents, with their children, to take part in various workshops to familiarise themselves in a fun way with the work carried out daily in more than 800 education and reception centres and mini-crèches and more than 500 parental assistants. They will discover together how these structures contribute to making children strong (Staark Kanner).
During the week of 14 to 20 May, 100 non-formal education structures will also open their doors to show parents the extent of their activities.
The complete programme can be found online via: www.kannerwoch.lu.