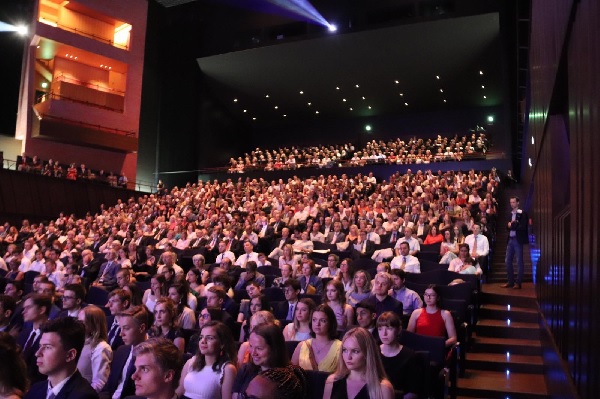 European School graduates; Credit: MAEE
On Saturday 6 July 2019, the Luxembourg Philharmonie hosted the 61st European School Baccalaureate graduation ceremony.
Chaired by the principal of the M. Wedel school, the ceremony brought together graduates of 19 nationalities, along with their families and teaching staff. For secondary school graduates, the Baccalaureate ceremony marks the end of an era and the transition to higher education as well as to their adult life as citizens of Europe.
During the ceremony, Luxembourg Minister of Foreign Affairs Jean Asselborn gave a speech in which he addressed the main challenges of European political events with particular emphasis on respect for European values. More specifically, he highlighted the challenges facing today's youth, namely European migration policy and the fight against climate change.
In this context, Jean Asselborn stated: "Dear graduates, your generation will have to face the challenges of the 21st century in the coming decades. As you know, Europe has been trying for years to make its migration policy supportive and effective. More than 600 people drowned in the Mediterranean this year. The recent episode around Sea-Watch 3 has once again shown the failure of government policies in this context". He added: "We need ways to save people in distress at sea, we need open ports for rescued people, a solidarity-based distribution mechanism, and legal migration routes".
Minister Asselborn then turned to the climate challenge: "And it is your generation coming to the streets to demand a robust European commitment to the fight against climate change. [...] We must do everything to stay below 1.5 degrees and arrive at the net zero carbon emissions by 2050. Persevere in your requests, because the Europe of 2050, it is yours!"
He concluded: "I think that the European School is the symbol of a united European Union. Here, among the graduates, 19 different nationalities are represented, that is to say more than half of the countries of the European Union. As a European school, you [...] show that Europe can work. We need common solutions to face the challenges the world faces".