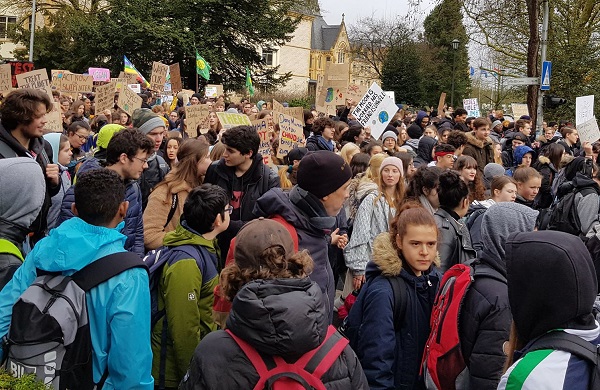 Students March Against Climate Change, March 2019; Credit: Jazmin Campbell
Following the demonstration held in March 2019, Luxembourg's Ministry of National Education, Childhood and Youth, the Ministry of the Environment, Climate and Sustainable Development and the Ministry of Agriculture, Viticulture and Rural Development have announced that they will give the floor to secondary school students in the fight against global warming.
On 15 March 2019, thousands of Luxembourg secondary school students marched through the streets of the capital, joining the global movement to demand concrete political actions in the fight against global warming. In response to this fight to be heard, the Luxembourg government has stated that it wants to involve young people actively in the research and implementation of solutions for the protection of the planet.
Luxembourg's Prime Minister, Xavier Bettel, met with a delegation from Youth for Climate Luxembourg, organizer of the event of 15 March 2019, and the cabinet decided to deepen the dialogue with young people around climate change.
To collect the expectations and proposals of secondary school students, the three Ministries, in cooperation with the National Students' Conference of Luxembourg (CNEL), are launching a series of five regional meetings.
The discussions with the students, in the presence of the ministers Claude Meisch, Carole Dieschbourg and Romain Schneider, the meetings organised will be held as workshops and will focus on the following topics:
• Sustainable schools;
• Climate protection in the areas of building, mobility, energy and waste;
• Consuming and producing sustainably.
The results of these workshop meetings will feed into the process of developing the Government's Integrated National Energy and Climate Plan. In early 2019, the government adopted an ambitious draft plan that sets national targets for reducing greenhouse gas emissions, renewables and energy efficiency. Current exchanges with all actors in our society, including secondary school students, will identify actions in all areas to achieve these ambitious goals. The National Integrated Energy and Climate Plan will include concrete measures and is to be finalised by the end of 2019.
The five workshop meetings with the students will take place as follows:
• Wednesday 8 May 2019 from 14:00 - 17:00 at the Geesseknäppchen Forum in Luxembourg-Merl;
• Friday 10 May 2019 from 14:00 - 17:00 at Al Seeërei in Diekirch;
• Monday 13 May 2019 from 14:00 - 17:00 at the Geesseknäppchen Forum in Luxembourg (for classes in European and international public and private education, with Minister Claude Turmes replacing Minister Carole Dieschbourg);
• Wednesday 15 May 2019 from 14:00 - 17:00 at Maacher Lycée in Grevenmacher;
• Friday 17 May 2019 from 14:00 - 17:00 at the Lycée Nic-Biever in Dudelange.
To participate in one of these regional sessions, students can register individually until 3 May by completing an online form. The absence of students who will participate in the exchanges will be excused classes. Parental authorisation is to be provided to minor pupils.​