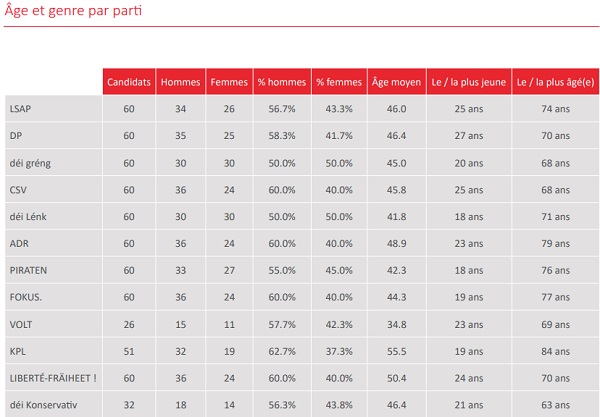 Credit: SIP
With the national (legislative) elections set for Sunday 8 October 2023, the government's press and information service (SIP) has confirmed that the full list of candidates is now available on the Open Data portal.
A total of 649 candidates are standing for the 60 seats in Luxembourg's parliament (Chambre des Deputés), made up of 371 men (57.2%) and 278 women (42.8%), with the youngest aged 18 years and the oldest aged 84 years (average age of 46 years).
A total of nine parties are each fielding 60 candidates: LSAP, DP, déi Gréng (Green party), CSV, déi Lénk, ADR, Piraten, Fokus and Liberté Fraiheet, with three other parties also with a lesser number of candidates standing: Volt (26), KPL (51) and déi Konservativ (32).
Volt candidates have the youngest average age (34.8 years) and the KPL the oldest (55.5 years).
The elections cover four constituencies: Centre, east, north and south.